Undergraduate Profile: Julian Menzel BC '17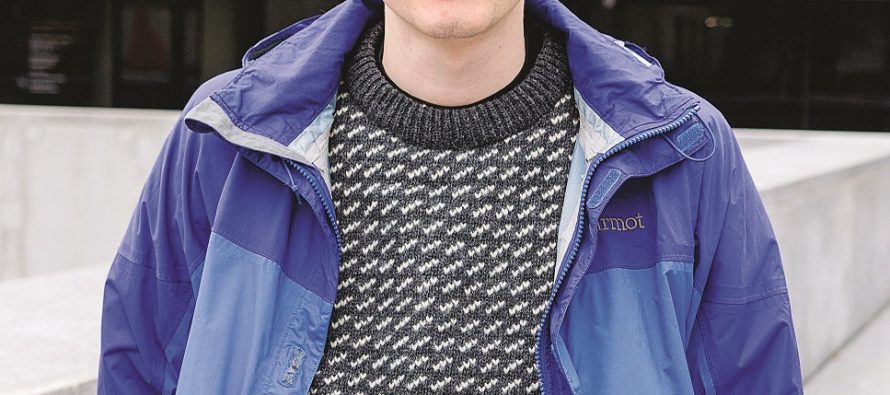 It's fairly common for college freshmen to enter school without knowing exactly what they want to pursue, but current senior Julian Menzel (BC '17) was a little different. He has known that he wanted to study physics since the age of fourteen. He first developed an interest in the subject when he stumbled upon books by well-known physicists like Stephen Hawking, Brian Green, and Roger Penrose, but he eventually grew tired of popular science simplifications. "I hit a point where I got frustrated with frog-in-a-bowl analogies rather than actual equations," Menzel said. He decided to teach himself calculus in high school, even though only two teachers at his high school were equipped to teach the subject. While he also enjoyed activities like playing soccer, participating in Boy Scouts, and practicing the piano, he spent some of his after-school time struggling through a physics textbook. However, it was not until college that Menzel discovered his passion for the history of science.
Menzel's physics education took off at Yale. Throughout high school, Menzel had also developed an interest in philosophy and literature. Once at Yale, he eventually found himself asking the same set of questions that literature and philosophy provoke, but about physics. He wondered about issues in physics that physicists have as of yet failed to answer, such as how the field's cultural norms determine who becomes a physicist or how standards of rigor have changed over time. He was curious about the social world of physicists, pondered the consequences and purpose of being a physics student, and developed an interest in how the study of physics in the United States came to look like it does today. Eventually, Menzel read Image and Logic by Peter Galison and experienced what he referred to as a sort of secular "conversion experience;" the book was a catalyst for his up-and-coming fascination with integrating the history of science into the study of science itself. "It's interesting," Menzel remarked. "Scientists are often interested in the history of their disciplines. Right now, there is very little cross-talk between the humanities and the sciences."
Menzel is majoring in physics (intensive), but his interdisciplinary interests are not limited to his fields of study. He has enjoyed the small class sizes in the Yale physics department, loves to work with other students to solve problems, and appreciates the collaborative environment. However, after observing that women and other minorities were often not included in student-formed study groups, Menzel formed Iota, an organization that has made strides to reform the way study groups are created. Iota pushes for basic pedagogical reform by obtaining peer tutoring for 300-level math classes and organizing student study groups to increase the amount of support available to students, as well as pushing to have more course staff available to students. Menzel is also on the board of directors of the Telluride Association, a non-profit that offers intensive educational programs for both high school and college students.
In the future, Menzel plans to go into academia and conduct research in history of physics. He won't have to wait very long to realize his dreams, though: in the coming year, Menzel will head to Cambridge as a Gates Scholar, partaking in a one-year masters program in history of philosophy and science. He is looking forward to thoroughly digging into historical reading, research, and writing. "I've been living two lives, in some sense. I spend most of my time doing physics with other people—fighting for time by myself to pursue historical interests," Menzel said. However, he emphasizes that his multifaceted interests are important to develop a deep understanding of physics. "Having an understanding of the history of the discipline is a good way of getting a baseline cognizance of it," Menzel said.
Menzel will continue on to MIT to attain a PhD after he completes his time at Cambridge, after which he would be interested in collaborating with a professor to incorporate history of physics into introductory physics courses; he believes that this is an enriching component of the curriculum that is oft-forgotten by many lecturers. "Building up channels of communication would be very beneficial. Scientists are government advisors. They fill important positions. They need a working sense of how their work fits into the broader sociopolitical landscape that they inhabit, so that they can do their work responsibly and ethically," Menzel said.