Parenthood is rightfully seen as a huge responsibility. Having a child brings enormous economic, social, and personal changes to the lives of parents. However, it seems that the transition to parenthood results in more than just external changes; it also may result in neuro-cognitive changes. Researchers at Yale's Child Study Center, in collaboration with scientists from the University College London, have identified neuro-cognitive differences between mothers and non-mothers.
A group of researchers from the two institutions including Professor Linda Mayes and Associate Research Scientist Helena Rutherford in the Yale Child Study Center, conducted a study comparing the attentional allocation of non-mothers and mothers when presented with the faces of infants, children, adolescents, and adults. The researchers hypothesized that specific cues designed to attract attention and motivate behavior exist within infant faces that parents can detect.
The study found that mothers do engage with the infant faces for longer periods of time than non-mothers, particularly when the faces displayed distress. Interestingly, the study found no differences in preferential attention allocation between adolescent faces and adult faces.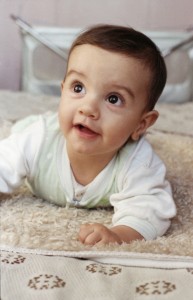 The results of this study not only reveal neuro-cognitive differences between mothers and non-mothers, but they also point to a potential mechanism for caregiving which may be of clinical interest. This sort of research "allows us to understand both normative parental development as well as probe what may underscore situations where there are reductions in the quality of parenting" said Drs. Rutherford and Mayes. Clinical use of this sort of research is still far in the future, but it holds the potential to help us further understand neuro-cognitive changes that result from becoming a parent.