About YSM
The Yale Scientific Magazine, established in 1894, is the nation's oldest college science publication and the premier science publication at Yale.
Our Mission
The Yale Scientific Magazine is a student-run quarterly science publication featuring groundbreaking scientific research at Yale and beyond. Composed of writers, editors, photographers, artists, designers, and businesspeople, our interdisciplinary team is united by the belief that science should be accessible and exciting to everyone—even those without a scientific background. This is exemplified not only in our magazine but in our outreach through Synapse, which hosts STEM outreach programs to empower New Haven youth. We hope you join our team of more than 100 students and over 2,000 worldwide subscribers as we share the stories of science.
2020 YSM Masthead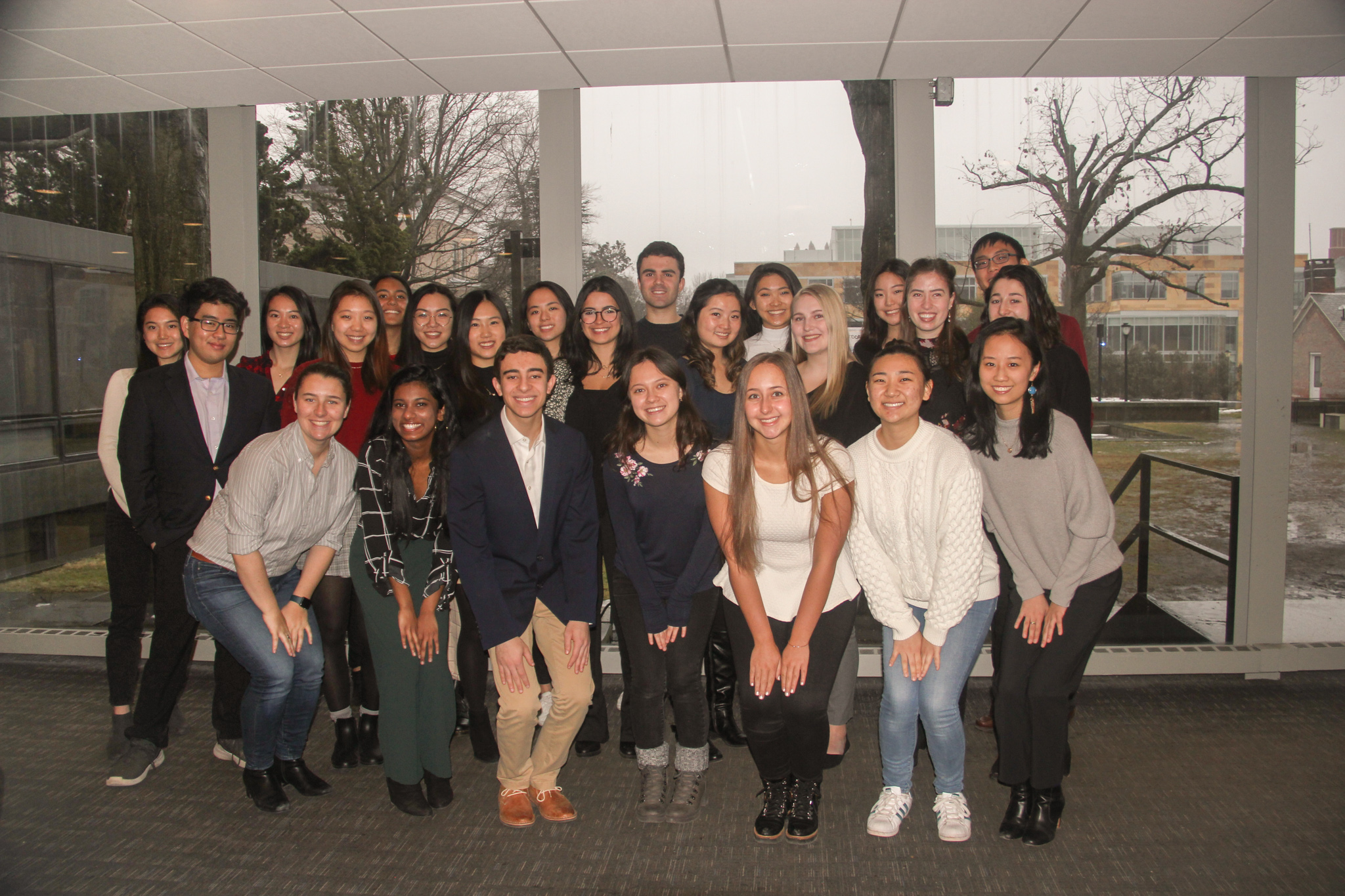 Managing Team
Marcus Sak

Editor-in-Chief

Marcus Sak (TC '21) is a Chemistry major from Penang, Malaysia. He was previously staff writer, copy editor, and articles editor for YSM, and is excited to see the magazine grow even more. Outside YSM, he was previously co-curator of TEDxYale, and continues to study peptide-catalyzed asymmetric reactions in the Miller group. In his free time, he goes to Arethusa for ice cream.

Kelly Farley

Managing Editor

Kelly Farley (MC '22) is a Chemistry major from Chicago. She has previously served as Resonance Director of Development and Scope Editor. From her research in the Medzhitov immunobiology lab, she knows how easy it can be to fall into jargon when explaining things like "KRAB Zfp involvement in hematopoiesis." As Managing Editor, she hopes to focus on the stories behind science to make research exciting and accessible to all. Outside of YSM, her proudest accomplishments include growing up in downtown Chicago and not the suburbs and being a certified top fan of the "Biochemistry Memes Depicting Intracellular Scenes" Facebook page.

Anna Sun

Managing Editor

Anna Sun (JE '21) is a Molecular, Cellular and Developmental Biology major from Memphis, Tennessee. She has been involved with the magazine since her first year at Yale as a staff writer and News Editor. As current Managing Editor, Anna hopes to further improve science communication among the general public by ensuring that innovative scientific research is presented in a clear, accessible manner. Outside of YSM, she studies riboswitches in the Breaker lab, volunteers at Yale-New Haven Hospital, promotes literacy for New Haven youth through story time at New Haven Reads, and serves as a member of the MCDB Student Advisory Committee and as MCDB peer mentor for her residential college. She also enjoys dancing and exploring the food scene in New Haven with her friends.
Editorial Team
James Han

Articles Editor

James is a sophomore in Trumbull College from Temecula, California (near San Diego). He is a Statistics and Data Science and Molecular Biophysics and Biochemistry double major with interests in genetics. He is currently working in the Zhao lab on statistical methods for genomic data analysis. Outside of the Yale Scientific, James volunteers at Yale-New Haven Hospital, sings with the Yale Russian Chorus, plays on the Club Squash team, and takes photos for the Yale Daily News. In his free time, he enjoys playing video games, reading, taking photos, and napping.

Hannah Ro

Features Editor

Hannah is a sophomore in Trumbull College from the perennially warm Orange County, California. Her current academic interests include biology, medicine, public policy, and their intersections. In addition to editing and writing for the Yale Scientific, she plans (and cooks Korean food for) KASY events, researches neurodegenerative diseases at the medical school, and occasionally golfs with the club team. She is a fan of science fiction, lo-fi covers, big dogs, and all things matcha.

Isabella Li

Special Sections Editor

Isabella Li (JE '22), a Molecular, Cellular, and Developmental Biology major, is from Chapel Hill, North Carolina. Outside of YSM, she researches circular RNAs under Dr. Grace Chen in the Department of Immunobiology, as well as helps manage Negative Space, an Asian American oral history project. She is passionate about celebrity gossip, caffeinated drinks, and writing as a means to tell stories.

Xiaoying Zheng

News Editor

Xiao is a sophomore in Benjamin Franklin from Central Massachusetts. She is a Chemistry major and hopes to pursue medicine and public health. Outside of YSM, she is involved in Dwight Hall and Y2Y New Haven. Her other interests include going on long runs, listening to podcasts, and hoarding awake chocolates.

Tiffany Liao

Online Editor

Tiffany is a sophomore in Pierson College majoring in Biomedical Engineering. She is originally from Taiwan and grew up in southern California. Outside of YSM, she plays for the Yale Women's Club Basketball Team, is one of the co=moderators of the Taiwanese American Society, and mentors low-income, high-achieving high school students through Matriculate. In her free time, she enjoys listening to podcasts, spending time with family, and watching Brooklyn 99.

Maria Fernanda Pacheco

Online Editor

Maria Fernanda Pacheco is a first-year in Grace Hopper College from Rio de Janeiro, Brazil. She is a prospective Neuroscience and Comparative Literature double-major who is very passionate about bridging global health disparities. Outside of the YSM, she is a Community Health Educator, volunteers with Yale Alzheimer's Buddies and participates in Timmy Global Health. In her free time, you can find her binge-reading magical realist novels, running around New Haven or FaceTiming her little brothers.

Lorenzo Arvanitis

Scope Editor

Lorenzo (MC '21) is a Molecular, Cellular, and Developmental Biology major who is half-Italian and half-Greek but grew up in the suburbs of Washington D.C. When he's not working on the Yale Scientific, you can find Lorenzo editing for the Yale Daily News, drawing with kids at the hospital, or conducting neuroscience research. In his free time, he enjoys reading, listening to music, and creative writing.

Brett Jennings

Scope Editor

Brett is a sophomore in Benjamin Franklin College from Southwest Missouri. She is a Computer Science major with an interest in intellectual property and patent law. Outside of the Yale Scientific, she enjoys teaching computer science to local students with Code Haven, volunteering with the Yale Undergraduate Legal Aid Association, and working on political science research. In her free time, she enjoys watching Netflix, taking post-class naps, and searching New Haven for the perfect chai latte.

Serena Thaw-Poon

Copy Editor

Serena is a sophomore in Saybrook from right outside Baltimore, Maryland. At Yale, she studies cognitive science, helps run ALSEAS, and dances on the Bhangra team. She enjoys talking about many things: the brain, her stint at existenitalism camp, but most importantly, her favorite soccer team, Tottenham Hotspur.

Nithyashri Baskaran

Copy Editor

Nithy, a proud resident of the Bay Area and of Benjamin Franklin college, is a sophomore majoring in Molecular, Cellular, and Developmental Biology. Having spent a summer with the Crawford Lab studying host-microbiota interactions, she hopes to continue her research on cell signaling this year. She combines her love for science and stories not only through working for YSM but also in writing patients' life narratives, speaking at Telltale shows, and raving about Black Mirror. You'll find her reading fiction, photographing friends, and vibing to Frank Ocean in her free time.
Production Team
Antalique Tran

Production Manager

Antalique Tran (TD '21) is a Neuroscience major from the Orange County area of Southern California. Outside of the Yale Scientific, she designs layouts for the Yale Global Health Review as one of the Editor-in-Chiefs, oversees the TD Art Studio as an office aide, researches modulation of inhibition in neocortex via endocannabinoid signaling in the Higley Lab, and spends time with geriatric patients as an Elder Horizon volunteer at the Yale New Haven Hospital. In whatever free time is left after the science hill/med school treks, she enjoys illustrating, petting dogs, and drinking aloe vera juice.

Julia Zheng

Layout Editor

Julia Zheng (JE '23) is a prospective Statistics and Data Science major from Bethlehem, Pennsylvania. She took part in Resonance, Synapse's annual high school STEM conference, as a teacher and is a current member of the Yale University Guild of Carillonneurs, the student group that performs on the bells in Harkness Tower. In her free time, she can be found roaming the YUAG or at a café, buried in a good book.

Ellie Gabriel

Arts Editor

Ellie (DC '22) is a Biomedical Engineering major from the Jersey Shore. She spent the last year working with rats at the Connecticut Mental Health Center but now researches autism at the Child Study Center. She somehow finds time to volunteer as an EMT, intern as a graphic designer for the CDC and build her art/photography portfolio. Yes, LinkedIn did recently notify her that she has too many jobs. As Arts Editor, she hopes to encourage greater artistic involvement in the magazine and spark creativity on campus. She can be found swiping her gift card at Blue State every morning.

Kate Kelly

Photography Manager

Kate Kelly is a sophomore in Morse college, double majoring in MCDB and Spanish, hoping to pursue a career in healthcare abroad. Outside of the classroom, Kate works in Clare Flannery's lab studying endometrial cancer, and volunteers at the HAVEN Free Clinic in their Behavioral Health Department. When not at school, Kate can be found hanging out with all 7 of her pets at home (including the chickens), telling everyone about how amazing sharks are, and SCUBA diving as much as possible.

Sophia Zhao

Cover Artist

Sophia is a first-year in Pauli Murray college from Newark, Delaware. She is interested in Molecular, Cellular, and Developmental Biology and all things English and art. Outside of YSM, she helps run Yale Undergraduate Science Olympiad, illustrates for the Yale Daily News, and is most likely taking a nap in her free time.

Matt Tu

Webmaster

Matt Tu (MC '22) is a prospective CS and Psychology major from Briarcliff, NY. He conducted research on schizophrenia in Tyrone Cannon's lab over the summer. Outside of YSM, Matt plays the sousaphone for the Yale Precision Marching Band and competes on the club swimming team. He enjoys playing ping pong, Pokemon Go, and his Fortnite with his suitemates in his downtime.

Siena Cizdziel

Webmaster

Siena is a first-year in Davenport College from Oxford, MS. She is a prospective computer science major who also loves chemistry. She has written and photographed for YSM and is thrilled to be more involved this year as a Webmaster. Alongside YSM, she is involved in Circle of Women. You can find her exploring campus, playing board games with her suite-mates, reading a good fantasy novel, or working on a problem set in Bass.

Megan He

Social Media Coordinator

Megan is a sophomore in Pauli Murray College from Ann Arbor, Michigan and is double majoring in Environmental Engineering and Global Affairs. Outside of YSM, she conducts research on atmospheric aerosols and air quality in the Gentner Lab. In addition, she is a social media producer for the Yale Program on Climate Change Communication and an editor for The Yale Globalist. In her free time, Megan enjoys running to East Rock while listening to podcasts (any kind!).
Business Team
Sebastian Tsai

Publisher

Sebastian is a sophomore in Jonathan Edwards College from Los Angeles majoring in physics. Besides YSM, he is treasurer/social chair for YUMS, a coach for mathcounts, a member of the RAAS dance team, visual storyteller of the Yale meme page, and also a visitor of club running. Outside of YUMS and school, he can be found sleeping, eating, playing in the snow, researching in his astrophysics lab, running, building Legos, writing poetry, or making memes/puns.

Jenny Tan

Operations Manager

Jenny is a first-year in Saybrook College from northern Virginia and is a prospective chemistry major. She has written for the YSM and was a member of the Resonance board as Co-director of Operations. Outside of YSM, Jenny serves on the Chinese American Students Association board as social media chair and is part of Yale's Piano Collective. In her free time, Jenny likes to bake, online shop and play/listen to music.

 

Stephanie Hu

Advertising Manager

Stephanie Hu (SY '23) is a prospective Molecular, Cellular, and Developmental Biology and Statistics and Data Science double-major from Bridgewater, New Jersey. Outside of writing for YSM, she is a part of YMPO and Simplex Sciences. In her free time, she enjoys attempting to ski and play tennis. She hopes to work in a biology lab again this summer, and her favorite model organism is C. elegans.

Cynthia Lin

Advertising Manager

Cynthia is a first-year in Pierson College and a potential comparative literature major. She is excited to combine her love for the written word with her interests in biology through YSM. Outside of YSM, she is a copy editor for the Yale Historical Review and a soprano in Yale's premiere Korean a cappella group, Hangarak. She is from Boulder, Colorado, but enjoys spending her free time indoors reading, watching c-dramas, and eating.
Synapse Team
Michelle Barsukov

Co-President

Michelle Barsukov (TD '22) is a Chemical Engineering and Economics double major in the Energy Studies program, originally from the Chicago suburbs. She hopes to combine all of these things to make a more sustainable world. Outside of YSM, Michelle is a choreographer for Danceworks and teaches Krav Maga at Yale.

Katherine Dai

Co-President

Katherine (ES '22), hailing from New Jersey, is a double major in Molecular, Cellular & Developmental Biology and History of Science, Medicine & Public Health. Having previously served as Synapse Outreach Coordinator and Director of Operations for Resonance, she's excited to continue giving back to the greater New Haven community through organizing engaging outreach initiatives. Outside of YSM, she researches small molecule PROTACs for targeted protein degradation in the Crews lab, leads science tours, and works for Simplex Sciences, a biotech startup on campus. In her free time, you can catch her ice dancing, brush lettering, or coffee shop hopping.

Chelsea Wang

Vice President

Chelsea is a sophomore from Colorado in Silliman College. She is majoring in Statistics and Data Science and is interested in exploring how that intersects with healthcare. She has worked with Resonance and Synapse since her first semester at Yale and is excited to continue sharing science with the greater New Haven community. In her free time, you can find her browsing through cat memes, learning the guitar, or drinking too many iced matcha lattes.

Blake Bridge

Outreach Coordinator

Blake Bridge, from Temple Terrace, Florida, is a first year in Davenport College, and is one of this year's Synapse Outreach Coordinators. He plans on majoring in global affairs and is interested in studying the intersection between public policy and science. Outside of the YSM, Blake is part of YRIS, a Yale international relations magazine, and LEAD, an undergraduate leadership program on campus. Blake is also involved in scientific research and was recently published in the journal Annals of Breast Surgery. During his free time, Blake enjoys bowling, watching movies, and eating out with friends.

 

Nadean Alnajjar

Outreach Coordinator

Nadean Alnajjar (JE '22) is a prospective major in either Chemistry or Molecular, Cellular, and Developmental Biology, who is also entertaining the idea of double majoring with History. She was born and raised in Brooklyn, New York. When she is not working on YSM, she can be found on campus in a pharmacology lab, or planning and setting up an event for the Chaplain's Office or the Muslim Students Association. In her spare time, she likes to skateboard, bake, and watch films with her friends.
Yale Scientific Magazine Advisory Board

Kurt Zilm, Chair
Chemistry
Priyamvada Natarajan
Astronomy
Scott Strobel
Molecular Biochemistry and Biophysics
Robert Bazell
Molecular, Cellular & Developmental Biology
Fred Volkmar
Child Study Center
Stanley Eisenstat
Computer Science
James Duncan
Biomedical Engineering
Steven Stearns
Ecology & Evolutionary Biology
Jakub Szefer
Electrical Engineering
Werner Wolf
Emeritus
John Wettlaufer
Geology & Geophysics, Mathematics & Physics
William Summers
History of Science & History of Medicine
Ayaska Fernando
Undergraduate Admissions
Elissa Dunn Levy
Yale Science & Engineering Association