(Editor's Note: This article was co-written by Neil Pathak and Jonathan Setiabrata.)
Most Yale students begin their undergraduate careers never expecting to create a start-up company. Yet for three undergraduate engineering majors, a project that began as a late-night conversation among three friends has exploded into a promising biomedical technology start-up enterprise.
Elizabeth Asai MC '13, Nickolas Demas MC '13, and Elliot Swart MC '13 won the $100,000 prize awarded by the Center for Innovative Medicine and Integrative Technology (CIMIT) this past summer for their novel skin mole scanner. The three engineering undergraduates started their project in October of 2010 and learned last June that their project had received the award. Though their first idea was to develop a laparoscopic surgical probe, the CIMIT competition required their device to focus on improving patient care at the initial point of contact. So instead, the three transformed their former idea into the mole-scanning device.
"The device is essentially a 3-D technology probe that detects the elevation of moles as well as other distinctive characteristics such as border irregularity, color composition and size," Asai explained. Asai, Demas, and Swart also designed an imager that is low cost, easy to use, and capable of producing high-definition renderings. Yet, they are not finished. With a successful prototype and funding from their award, the three entrepreneurial engineers are currently building and improving upon their scanner models. Their current version-in-progress – Version 6 – will feature smaller optical boards and camera in addition to a more user-friendly interface. Furthermore, their scanner will include a ball structure to act as the primary imaging component. Swart is also currently revamping the web-interface of the device to allow imaging data to be uploaded and viewed online. This web-blog feature will give doctors immediate access to data from the scanner, allow-ing them not only to compare current and previous scans and images in 3-D but also to get enhanced images directly from the scanner with quantitative data and enhanced coloring. The new version of their device will undergo a second round of clinical trials and eventually seek FDA approval. On the other end, Asai is currently searching for two lawyers: one to process patent requests and protect their intellectual property and another to establish their status as a start-up company.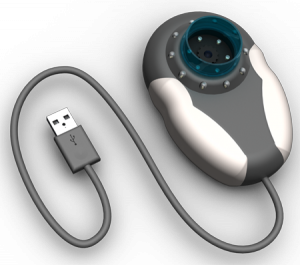 The Yale School of Engineering & Applied Science is very proud of Asai, Demas, and Swart for their accomplishments thus far. Vincent Wilczynski, Deputy Dean of Engineering, specifically stated that he "just helped them get going, while they did everything pretty much by themselves under the guidance of Professor Morrell in mechanical engineering and Professor Duncan in biomedical engineering." Wilczynski praised this device for its potential to advance the field of telemedicine by allowing patients in developing countries to electronically gain access to expert medical advice; local patients, too, would be able to electronically transmit images of their skin lesion infections to dermatologists.
"The greatest thing is that this group of three students is all what we represent," Wilczynski said. He further mentioned qualities, such as being "interdisciplinary, innovative, and self-driven," which were evident in these students. Moreover, he emphasized, "the [Engineering] School gives opportunities to students so that they can use these tools."
Rather fittingly, Asai, Demas, and Swart all plan to enter the biotechnology field immediately upon graduation or after pursuing graduate degrees.