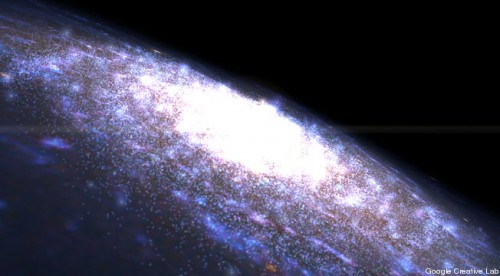 Google has provided us with a plethora of handy online tools, from a do-it-all search engine that quenches any curiosity to a GPS mapping system allowing virtual exploration of all corners of the Earth. So what comes next from a company that has revolutionized the way we use the internet? A guide to the entire galaxy? Challenge accepted.
The Google Data Arts Team has released its newest project: an interactive map of over 100,000 stars optimized for the Chrome browser. Aptly named 100,000 Stars, the program lets users zip through the galaxy without leaving their couch. The project is not just for amusement, though —100,000 Stars gives accurate locations of all nearby stars and allows the user to zoom in to 87 named bodies. Striking 3-D visualizations use real images of the sun and renderings of stars courtesy of NASA. Facts and detailed backgrounds about major stars and objects in our solar system are also revealed at the click of a mouse.
Astrophysical data for the project was drawn from multiple sources including Yale's very own Bright Star Catalog (BSC), assembled by the late Dorrit Hoffleit, a Professor of Astronomy at Yale who taught at the university for almost 20 years. The BSC is part of an archive of stellar information known as the HYG Database, which also contains information from the Hipparcos and Gliese Catalogs. Producer Sabah Kosoy of the Google Creative Lab said that her team at Google "used the HYG Database to plot star coordinates, identify named stars, and represent star colors." Using calculations summarized in the BSC, Google has created an incredibly detailed representation of our stellar neighborhood, making it possible for anyone to pan and scroll through the stars with ease.
100,000 Stars delivers an inspiring glimpse into the vast galaxy we call home in a fun, accessible way. As years of hard work were put to use through the application of the BSC, the project serves as a reminder of how Yale research is being used in modern innovation.