Jo Handelsman, Frederick Phineas Rose Professor of Molecular, Cellular, and Developmental Biology, was recently featured by Nature as one of the "Ten People Who Mattered" in 2012. The article, "366 Days: Nature's 10," demonstrated the acute international response to Handelsman's research in gender bias.
In August of 2012, Professor Handelsman and Dr. Corinne Moss-Racusin, a postdoctoral fellow in psychology, published in PNAS their results on gender bias in the scientific community. Handelsman explains their motivations: "Scientists would typically say, '[gender bias] doesn't apply to us, even though it applies to every other group in society. It doesn't apply to scientists because we're trained to be objective.' And it made Corinne and I say, 'okay, let's answer the question with the data.'" In their study, 100 scientists were given applications from fictitious male and female undergraduates seeking jobs as laboratory managers.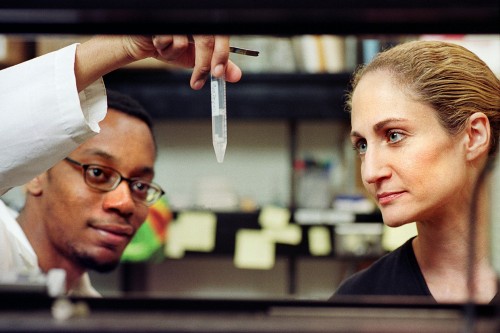 The results were unequivocal and shocking: employers, male and female alike, consistently considered female applicants less competent, offered them lower salaries, and were more likely to withhold from them career-building advice. "I was not surprised by our findings per se, but by how robust the findings were," says Dr. Moss-Racusin.
The study has since then gained international recognition, "even without the help of the Nature feature," Handelsman says. The study continues to motivate her to eliminate bias by holding educational training sessions for employers. She believes that even modest efforts in the classroom, such as students bringing up the study with their professors, can help alleviate the worst effects of bias.