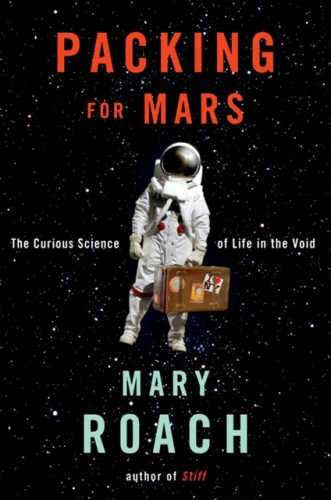 In Mary Roach's Packing for Mars, the life of an astronaut is surprisingly unglamorous. From embracing minuscule living spaces for months on end to accepting the horrors of zero-gravity showers, Roach illustrates the fascinating trials that intrepid space explorers must learn to overcome. With entire chapters devoted to motion sickness and astronaut hygiene, she describes the dark details involved in each step of getting to space.
While the book has Mars in the title, the bulk of Roach's writing actually summarizes trips to the Moon and the International Space Station, as well as isolated simulations on Earth. Only briefly does she cover the current efforts to transport humans to Mars.
Nevertheless, Roach's descriptions of space travel are nauseatingly effective. She drifts into lurid detail when she describes the psychological challenges of life on a space shuttle — for instance she cites the story of a deprived astronaut who smuggled casks of vodka into space.
Packing for Mars is not a how-to manual on traveling to our red neighbor. Rather, it is an attempt to humanize a profession shrouded in legend. For the most part, it succeeds. Roach occasionally stumbles by fixating on scandal over substance; however, even the bizarre case of the astronaut who drove across the country in diapers to accost her lover does not detract too much from Roach's message. The majority of the book remains packed with humorous and enlightening insights on life away from earth.