Researchers from the School of Forestry & Environmental Studies received a Google Earth Engine Research Award to fund their land stewardship research. In partnership with the Ucross Foundation, four students, one Fulbright Scholar, and two staff members, led by Professor Chadwick Oliver, are spearheading the Ucross High Plains Stewardship Initiative (UHPSI), a three-year project researching a 22,000 acre ranch in Wyoming established by Raymond Plank (YC '44).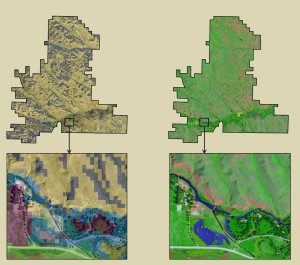 Henry Glick, UHPSI co-director, explains that the award is "targeted at looking for and identifying invasive species such as leafy spurge using satellite images." The group currently analyzes hydrology, biodiversity, innovative grazing methods, and spatial distributions of birds. Their data and statistical methods will be integrated into the soon-to-be public  analytical platform, Google Earth Engine. Another aspect of their research delves into demographics. Ranchers are getting older across the country, and the next generation will likely elect careers elsewhere. Current ranchers, therefore, can utilize the information provided by the team to practice more efficient ranching.
"We've been given a wealth of resources to help ranchers…by making their operations more sustainable and building social cohesion," says Charlie Bettigole, a co-director of UHPSI.
UHPSI aims to increase the usefulness of the land while decreasing negative environmental effects, such as fragmentation, herbicide pollution, and water supply contamination. Meetings with local ranchers help the team direct their research towards practical goals in land conservation. As stated on their website, the UHPSI team "works locally but thinks globally."