The human body is a phenomenal machine. With over three hundred joints and twice as many muscles, Homo sapiens exhibits a stunning range of motion and activity. However, this advanced mechanical system is useful only when skillfully controlled. Until an infant learns to control the physiological machine of himself or herself, he or she is limited; supplied with a finger to grasp, his only reaction is to wrap his tiny digits around the offering and squeeze as hard as he can.
Amazingly, a recent robotic development called the i-HY Hand achieves more varied grips than the average human infant simply through the passive mechanics of its finger mechanism. It is constructed in such a way that, when acted on by different objects or external forces, it naturally alters its grip.
i-HY was developed by a team led by Yale's Lael Odhner and Aaron Dollar in response to a robotics challenge from DARPA, the Defense Advance Research Projects Agency. Odhner, an Associate Research Scientist, and Dollar, a John J. Lee Assistant Professor of Mechanical Engineering & Materials Science and Director of the GRAB Lab, were joined by professors and graduate students from Yale, Harvard, and the iRobot Corporation. Their minimalistic design, intended to facilitate grasping and in-hand manipulation in mobile search and rescue robots, is controlled by just five small motors, called actuators. It also boasts durable, inexpensive construction.
Unlike most engineers, the i-HY team used a bottom-up approach: they based the structure of the hand on the tasks it was meant to perform. These tasks included grasping and using house keys, zippers, drills, whiteboard markers, wire cutters, flashlights, and hammers. Additionally, i-HY was expected to pick up and move especially heavy objects of unknown geometry.
Raymond Ma, a graduate student collaborator on the project, explained that i-HY differs from conventional robotics not just in design strategy, but in structure. The basic robotics paradigm is to use "a piece of metal attached to a motor" — or, in the case of more advanced designs, many pieces of metal built onto many motors. This approach works well enough in a research setting, but it is not hardy or adaptable enough to use outside the lab. The i-HY team's solution: using underactuation and rubber urethanes joints to make a simpler, sturdier robot.
"Underactuation is when the system is not just dependent on the motor that controls it, but also on the objects and the environment with which it interacts," said Ma. In the context of the i-HY hand, this means that when the five actuators produce a basic gripping motion, the grip will manifest in different ways based on the physical properties of the objects being grabbed. Sensors on the fingers also aid in suiting the hand's grip to its environment. The hand's adaptability is increased by its minimalistic durability. Its rubber urethanes joints withstand impacts well, and its compact form — with all of the actuators contained in the hand itself — is sturdier than the sprawling design of hands in which the actuators must be stowed like extra baggage in a mechanical forearm.
While i-HY is characterized by underactuation and minimalism, most previous robot success stories favor predictability over structural simplicity. Assembly line robots, designed for uniformity of action in a safe, unchanging environment, do not need to be easy to fix or responsive to unexpected externalities. Meanwhile, since the movie stars of robot technology — those most often featured in demo videos on the news — must perform impressive tricks for in-lab videographers, complexity is actually encouraged over flexibility of function.
It's not surprising, then, that potential customers across the globe are unaccustomed to i-HY's bold simplicity. However, if robots are ever to function in a public, non-industrial setting, the strategies of i-HY may be key.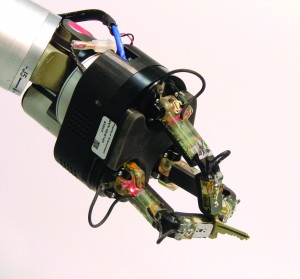 Outside the predictability of the lab, robots are plunged into a sea of variables. Machines designed for home use will face more houseguests, pets, and clutter than any mathematical model could predict, while search and rescue bots will need to negotiate the random rubble of natural disasters. Both settings mandate flexibility and durability.
The i-HY hand's design caters to both requirements. Its relatively low number of actuators means that there are less motors at risk of damage. The flexible joints are also sturdier and less susceptible to impact than metal hinge joints. Most importantly, the wide range of non-programmed, situation-appropriate manipulations made possible by underactuation and sensor data qualify i-HY not just for survival, but for functional success in an unpredictable setting. As Ma pointed out, "the Terminator is nowhere near" — but with the development of the i-HY hand, affordable, functional public-use robots are one step closer to reality.