Breastfeeding is widely recognized for its advantages over infant formula for both maternal and infant health. It can improve the intellectual development of children and reduce mothers' possibility of developing breast cancer. As a result, public health officials have taken an interest in promoting breastfeeding for new mothers.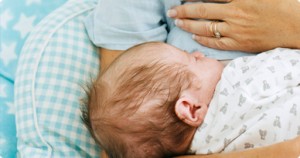 A new Yale School of Public Health-affiliated study, named LATCH (Lactation Advice thru Texting Can Help), explores the effect of communications technology and peer counseling on improving breastfeeding outcomes among women in the Women, Infants, and Children (WIC) program. Under the leadership of Rafael Pérez-Escamilla, Professor and Director of the Office of Public Health Practice, and Nurit Harari, a former Yale Robert Wood Johnson Clinical Scholar, the study investigates the introduction of texting as a tool for breastfeeding promotion and support.
Using texting, a low-cost medium of communication popular among young mothers, the group's research aim is to provide mothers with more accessible breastfeeding advice and more frequent reassurances that can help moms with their self-confidence for breastfeeding. "The goal is not to replace the peer counselors," said Pérez-Escamilla, "the goal is to empower them and to strengthen their capacity." Texting enables peer counselors to respond to mothers' breastfeeding questions on a daily basis and regularly provides educational resources.
LATCH's unprecedented nature is in part the result of researchers' newfound ability to use high capacity web-based texting to support this two-way dialogue. "The LATCH model can easily spread nationwide and even beyond the U.S," said Pérez-Escamilla. "The sky is the limit."