Cyborgs, living organisms with both organic and electronic parts, were once thought to exist only in fantasy. Now, with advances in technology, it is possible for these creatures to actually become reality. In 2012, Joel Voldman and his team at the Massachusetts Institute of Technology were able to control moths via probe implants. These probes were attached to the moth's ventral nerve cord (VNC), and when the probe emitted an electric pulse, the stimulation to the VNC caused the moth's abdomen to turn. As a result, scientists were able to steer these moths left or right depending on the area where the VNC was stimulated.
Now, Alper Bozkurt and his team at North Carolina State University have been able to take this technology one step further — creating moths that have wires integrated and fused with their tissues.
One of the main questions that these scientists are trying to understand is how moths fly. By understanding the underlying physical properties and mechanics behind moth flight, it may be possible to develop better electric complements. However, one of the biggest challenges is trying to understand how a moth flies without using technology or equipment that hinders its natural flight patterns. Attachments or even surgical implants can potentially disturb these patterns. In addition, there could be shifting of these devices within the insects due to various stress forces.
Bozkurt and his team came up with a solution to this problem: integrating the data recording platforms onto the insects during metamorphic development. They called the technique that they developed Early Metamorphosis Insertion Technology (EMIT). Bozkurt and his team inserted an electrode into the insect when still in pupa form. As the moth underwent metamorphosis, its tissues fused to the wires and the implanted electrode. This fusion not only allowed for an enhanced tissue interface with the implant but also provided stability in measurement recording.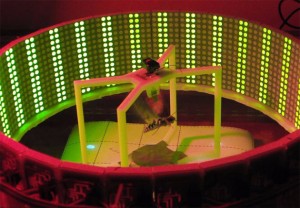 In addition to developing a reliable interface for exploring the neurological signals involved in powering flight, the researchers also came up with a new way of characterizing the insect's flight dynamics. Instead of tethering the moth using wires, which might possibly disrupt their natural flight patterns, they used a magnetic levitating frame and connected a wireless neural adapter to the moth. This set-up allowed them to capture reliable data on the intricacies of the movement of the moth's wings without impairing its natural flight.
Being able to incorporate electronic parts into a moth without impeding its natural flight motion is a huge step towards being able to develop cyber-moths. In the future, researchers may even be able to send signals to the moths and control their flight patterns. These bugs could also carry small payloads such as microphones or gas sensors, making them the perfect spies. Although we will not be expecting flying and spying cyber-moths anytime soon, the once far-off dream of combining organic creatures with electronics is now becoming a reality.