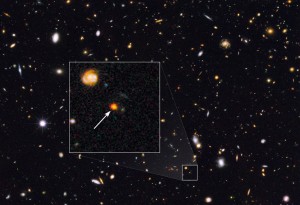 For the first time, astronomers have observed the core formation phase of a giant galaxy, confirming longstanding theories about how these galaxies form. This observation, made by an international team of astronomers led by Yale doctoral candidate Erica Nelson, was notable in that the researchers saw a galaxy building a dense central core. Scientists have theorized that massive galaxies are built from the inside out, but the observations made by Nelson's team are the first ones to actually demonstrate the first stages of this process by finding the dense central region in formation.
The newly discovered GOODS-N-774 (affectionately nicknamed "Sparky") is thought to be the core of a giant elliptical galaxy. It was first observed by an infrared camera on the Hubble Space Telescope. After the Hubble discovery, Nelson's team observed the galaxy using the Near Infrared Spectrograph on the W.M. Keck Observatory in Hawaii, where they saw Sparky's rapidly orbiting gas clouds. This rapid gas movement, caused by the galaxy's massive core, was the team's confirmation that they were seeing a forming galaxy core.
The team also gathered data from the Chandra, Hubble, Spitzer, and Herschel Space telescopes for a more complete picture. According to Nelson, this discovery was made possible by recent advances in telescope technology, specifically the 2009 installment of Hubble's Wide Field Camera 3. Using these additional telescopes, they were able to gather many other details about Sparky's size and formation.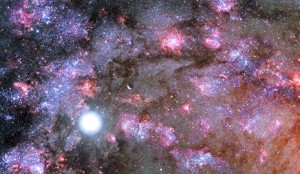 What the team found was surprising. Though Sparky is smaller in area than the Milky Way, it has a much larger stellar mass and produced stars much more rapidly in its heyday. Its combined star mass is about 100 million suns, and it produced around 300 new stars per year, compared to the Milky Way's ten. However, Nelson and her team observed the galaxy as it appeared approximately eleven billion years ago, or three billion years after the Big Bang, so Sparky has changed a lot since then. It is believed that Sparky continued producing its own stars until about 10 billion years ago, at which point it continued expanding, absorbing smaller galaxies in its path.
The researchers' discovery provides insight into how galaxies typically formed early in the history of the universe, when galaxy formation was more rapid than it is today. "We're still not sure why and how this process happens," Nelson said. "We know the early universe was much more dense, much more gas rich, and much more turbulent." Furthermore, according to Nelson, "this was purely a phenomenon of the early universe; it can't happen anymore."
The team hopes that their observation will encourage others to look for other forming galaxy cores and that it will help theorists figure out what causes these cores to form. Nelson believes that there are many similar galaxies out there that scientists have simply been missing due to dust clouds. She and her fellow researchers will certainly be looking. With future discoveries of forming galaxies, perhaps astronomers will one day unlock the secrets of the early universe.