"Opening the pages of a book that no one knew existed…that is something that I've been very interested in since the very beginning," says Dean Crane.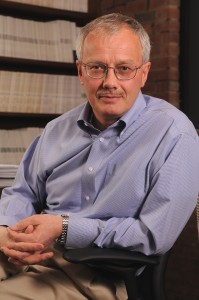 Peter Crane, the Carl W. Knobloch Jr. Dean of the School of Forestry and Environmental Studies at Yale, was recently awarded the 30th International Prize of Biology 2014, one of the major prizes in biology administered by the Japan Society for the Promotion of Science. Crane will receive the prize in Tokyo on December 1.
Driven by his passion for discovering what no one has ever known, Dean Crane has made major contributions to evolutionary biology. His work revolves around the integration of paleontological data from the fossil record with information from living plants, which Crane considers critical to a complete understanding of the evolutionary history of plants. As Crane explains, "to really understand what we have in the present, you also need to take into account what we've had in the past."
One of Crane's major breakthroughs was with his colleague Else Marie Friis, with whom he discovered a previously unknown abundance of tiny ancient flowers preserved in sediments more than 100 million years old. Their discovery gave rise to an incredible wealth of new information and a new field of study.
When asked about the prize's significance, Crane says that it will serve as a wonderful celebration of all that he and his colleagues have contributed, as well as an occasion to reflect on the direction of future studies. In particular, Crane is looking forward to the symposium that will take place the day following the award ceremony, where many of his close colleagues will present their recent findings.
Apart from his functions as Dean, Crane is also teaching two courses on environmental leadership in the School of Forestry and Environmental Studies.