When Christine Cunningham (YC '91) entered the world of science education, she had little idea how her career would turn out. What she has achieved since then has marked her as the founder of a new field in education. Twenty years ago, it was unheard of to teach engineering in elementary schools; yet, Cunningham has accomplished just that. Her work demonstrates the positive impact that engineering education can have on young children.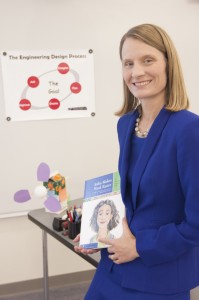 Motivated by childhood dreams and by concerns with the U.S. education system, Cunningham transitioned from being a Biology B.A. & M.A. student to working on science and engineering education. She became the Vice President of the Museum of Science in Boston, and launched Engineering is Elementary (EiE), her groundbreaking project that prepares classroom materials for teaching engineering skills to elementary school students. Though she chose an uncommon path, Cunningham reflects positively on her decision to use her science background in a public service endeavor. She firmly believes the power education has in shaping people's lives, especially those with a difficult or underprivileged childhood, and this belief is evident in almost everything she does.
Cunningham's childhood experience teaching her younger siblings put education in the foreground for her. At age five, she already knew that she wanted her career to relate to teaching in some way. Her interest grew at Yale as she worked as a volunteer with Yale Demos, an undergraduate organization that teaches science to local students. She also volunteered in a church soup kitchen, serving food and talking to the people who came in. "You learn their stories and you realize that there are very complex reasons why people end up in the social situations they are in," Cunningham said. "They all had a story."
In graduate school at Cornell, Cunningham observed the nation's educational issues through her research. She saw the inability of standardized assessments to bring out the best in some students. As Cunningham went on to work on projects related to science and engineering education, an Intel grant directed her work away from middle school and high school, and towards elementary education instead. Looking back, Cunningham said that she has learned to "never say never," as she would previously not have predicted this twist in her career.
Of course education was hardly a popular career when Cunningham set out. "I was told that I would be wasting my life in education," she said. But she believed in the impact she could have by choosing this route. "Education is one of the biggest tools we have for social justice in our country," she said. Fortunately, with the help of an advisor who recognized her vision, Professor Timothy Goldsmith, Cunningham held on to her beliefs. She started EiE in 2003.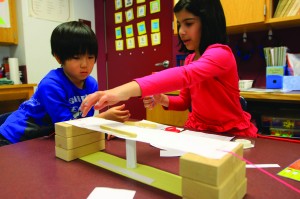 EiE is Cunningham's brainchild, and it realizes her aspirations. "My focus on education was how we could help the underserved, underrepresented, underperforming kids expand their possibilities in life through education," she said. By cultivating children's creativity through engineering, she wanted to reach every child and help children realize they could solve novel real-world problems. As she embarked on the task, however, she found herself entering a land where no one had trodden. Since teaching engineering in elementary schools is such a novel approach, there was no previous literature she could rely on. Everything had to be started from scratch.
EiE curriculum is divided into units that start with engaging stories and develop into engineering problems for children to solve. These problems consist of tasks such as building solar ovens, handheld pollinators, and knee braces. Each unit, which constitutes approximately ten hours of class time, was developed through more than 3,000 hours of research and experimentation with teachers. It took Cunningham and her team eight years to complete 20 units. From the very first day, Cunningham observed the EiE curriculum in action so that she could evaluate its efficacy. Another challenge was inspiring teachers who were intimidated by the prospect of having to teach engineering. Cunningham would tell them, "You know everything you need to know about engineering. You just don't call it engineering."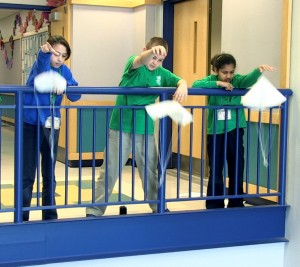 Cunningham has proudly observed improvements in students' school performance as EiE piques their creativity. In addition, she is amazed by how talented teachers create effective learning environments. "It's like watching art in action," Cunningham said. Moreover, having seen hundreds of young students' approaches to the various engineering tasks, she has been inspired by their ingenuity.
Cunningham believes that the privileges we have as Yale students demand that we think about the positive impact we can have on the world. Giving back to society, she emphasized, is a mission that all Yale students should share.