As children, we check for monsters under the bed, sharks in the ocean, and snakes in the garden. Afraid of danger from the outside world, we rarely consider the potential for destruction within our own bodies. For 17.3 million people annually, this destruction occurs when the very organ that pumps their blood fails. In fact, cardiovascular disease is the world's leading cause of death. Fortunately, modern medicine is providing a new hope: a drug called LCZ696.
The drug began clinical trials five years ago, in December 2009. The company Novartis created it to treat chronic heart failure. Researchers were astounded by the success of LCZ696: It performed better in early clinical trials than any prior heart failure drug has performed. LCZ696 is effective because it uses an innovative biological technique. Rather than relying on the inhibition of a singular enzyme, it combines two antihypertensives, or chemical components that reduce blood pressure.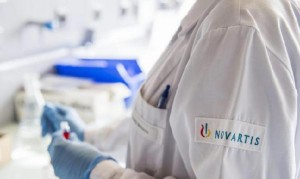 Chronic heart failure occurs when the heart cannot maintain adequate blood flow, which leads to fatigue, shortness of breath, and increased heart rate. Long-term effects of the condition are also serious, sometimes even fatal. Ischemic heart disease and cardiac arrest are not uncommon. Given the severity of the chronic heart failure and its high prevalence around the world, developing effective drugs is an important medical goal.
The standard treatment for heart failure right now is enalapril, an angiotensin-converting enzyme (ACE) inhibitor. ACE is an enzyme secreted by the lungs and kidneys that causes the constriction of blood vessels, thereby increasing blood pressure.  By inhibiting ACE, enalapril reduces constriction and decreases strain on failing hearts.
Up until the clinical trials of LCZ696, enalapril was the best treatment option for heart failure, and its long-term use decreased the relative risk of death for patients by about 16 percent. LCZ696 could potentially reduce relative risk of death by 20 percent. This increase in survival rate is significant, especially considering the number of people affected by heart failure.
LCZ696 differs from enalapril because it combines two components: valsartan and sacubitril. Both of these substances are antihypertensives, meaning that they lower blood pressure, but each functions differently. Valsartan is similar to enalapril in that it blocks the functioning of angiotensin. Where enalapril blocks ACE from converting angiotensin into its active form, valsartan blocks angiotensin from binding to its receptor. Both approaches reduce blood pressure by acting on the same molecular pathway.
Sacubitril is entirely unlike valsartan and enalapril – it inhibits another enzyme, neprilysin, which is normally responsible for inactivating several peptide hormones in the body. Two of the hormones that neprilysin inactivates are involved in the natural reduction of blood volume. In response to high blood pressure, heart muscle cells secrete these peptides to reduce blood volume, but neprilysin prevents this from happening. By inhibiting neprilysin, Sacubitril increases the blood level of these hormones, thereby decreasing blood pressure. On their own, neither Valsartan nor Sacubitril is sufficient to treat heart failure. But in combination, they appear to be extremely successful.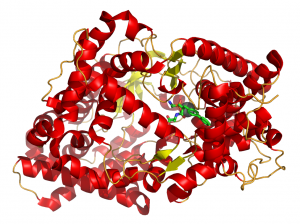 In trials, LCZ696 was more effective than other medications, better preventing cardiovascular-related deaths and hospitalizations. This accomplishment is monumental because heart failure has a poor prognosis; even with modern medications, approximately 50% of individuals with CHF will die within 5 years of initial diagnosis. Beyond living longer and undergoing fewer hospitalizations, LCZ696 subjects were better able to handle the medication's side effects. A common problem with enalapril is that patients have to discontinue taking the drug because of severe side effects.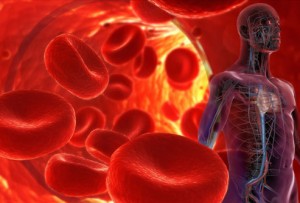 Novartis may change these standards when it releases LCZ696 to the public. Based on the first clinical trial, the drug is extremely promising and produces significantly better results than enalapril. It might be too soon for heart failure patients to rejoice, however, as LCZ696 is not projected to be released to the public until 2015. Additionally, there are still hurdles to overcome. ­LCZ696 will probably be expensive. Analysts have predicted that it might cost a patient as much as $2,500 a year, as opposed to generic drugs that could cost as little as $48 per year. Nevertheless, the development of LCZ696 is a leap forward in the treatment of heart failure.