"Duck Quacks Don't Echo" promises to excite viewers with facts that range from shocking to outrageous. The hosts, comedians Tom Papa, Michael Ian Black, and Seth Herzog, compete in this National Geographic program to present the most interesting fact to the audience in order to win the coveted "Golden Quack."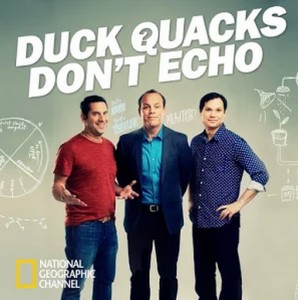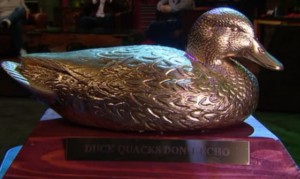 While "Duck Quacks" presents fun facts in a highly entertaining manner, it only occasionally addresses the scientific basis of these facts. The hosts' primary focus is on the spirit and hilarity of competition, which forces them to sacrifice scientific complexity. Still, the program undoubtedly inspires curiosity, and every episode is enjoyable in its own way.
The show draws facts from a variety of disciplines. For surprising facts, like "redheads have a higher pain tolerance than non-redheads," the hosts interview an expert (in this case, a geneticist from a research university), who describes the science involved. Then they conduct an experiment to demonstrate the fact's validity, and use a careful description of the procedure, materials, controls, and results. The interview, too, introduces complex concepts like genetics, evolutionary psychology, and chemistry in a clear – albeit oversimplified – manner. Other facts, such as "you can scale a wall using vacuum cleaners," may not be mind-blowing findings, but are neat demonstrations of physics.
"Duck Quacks" commonly cuts the science to put the hosts in silly situations, such as a hovercraft race for the fact "you can make a hovercraft using household items," or a trivia competition in which the hosts merely list facts. This is a shame because the show has great potential to use science to explain the unbelievable.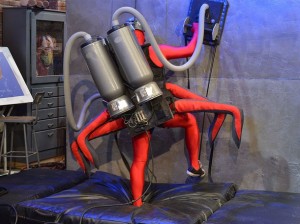 Despite its flaws, "Duck Quacks" is definitely entertaining, especially with the laugh-out-loud banter between the hosts, who lead each episode with enthusiasm and energy. Although the show may skimp on the science for broader appeal, it remains exciting. Given that it premiered in January, the program will hopefully continue to grow and improve as it gains viewership. By showing the simple "what," the show at least encourages viewers to discover the complex "why" on their own. "Duck Quacks Don't Echo" might just scratch the surface of science, but it definitely meets any trivia-nut's fill.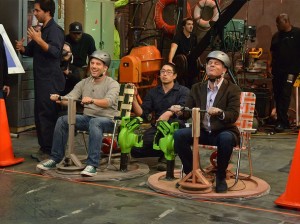 Rating: 2.5/4 stars