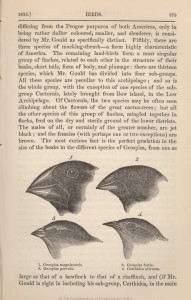 The name Charles Darwin is recognized almost universally, familiar at least to all biology students. In talking about his early work, the birds he studied also deserve some credit — Darwin's famous finches. In developing the theory of evolution, the English naturalist did not have access to modern methods of gene sequencing. Remarkably, he still published ideas that revolutionized the way scientists view the world and life on Earth. But now, scientists are applying genetic methods to reimagine our conception of Darwin's finches.
A recent study by a group from Uppsala University in Sweden compared the genomes of various finch species to examine the genetic basis of Darwin's observations on the Galapagos archipelago and nearby Cocos Island. Published in Nature just a week after Darwin's 206th birthday, this research beautifully bridged the gap between classic evolution theory and modern genetic sequencing. The Uppsala team confirmed many of Darwin's assertions about adaptation and natural selection, while finding a few key differences in phylogeny, or the relationship between various finch species.
Darwin's classic book On the Origin of Species features many illustrations of the various beak types of finches. Some beaks were more adapted to eat fruits, while others were better for eating seeds. In examining these differences, Darwin conjectured that different beaks were borne from the selective pressures of different ecological niches. This examination of closely related but distinct species helped him understand evolutionary pressures and speciation, two critical points in his theory of evolution.
In a genomic analysis of the beak diversity that Darwin carefully documented, Swedish researchers sequenced the genomes of 120 individual birds from all of Darwin's finch species. They then analyzed genetic diversity both within and between species. This genomic comparison revealed considerable variation in specific base pairs of DNA, known as single nucleotide polymorphisms, as well as shared genetic variation in populations.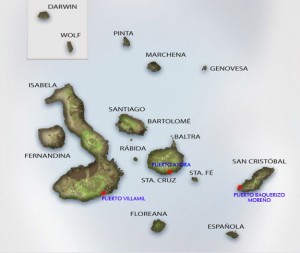 Using these results, the scientists went on to determine evolutionary relationships between different finch species. While previous phylogenetic trees were based on the outward appearance of beaks, or beak morphology, analysis of the genetic code allows for a gene-based approach to phylogeny that is likely more accurate. The genome-based phylogenetic tree, which shows evolutionary relationships between species, is mostly consistent with the classical taxonomy suggested by beak shape alone, though it does present some notable disparities. These differences imply that some instances of beak similarity are based on the convergent evolution of species, in which distantly related species develop similar beaks because they are under similar selective pressure.
The overall correlation between phylogeny and beak morphology indicates that genetic mutations have slowly accumulated as these finches evolved, changing beak shape over time. The team of researchers decided to probe for a specific gene locus that could explain diversity of beak shapes. Out of 15 regions identified as having high variability between species, six were in genes already shown to be involved in craniofacial development. The ALX homeobox, also known as ALX1, seems to be a particularly strong suspect as it encodes a protein that is known to be important in beak development. Future studies could test this possibility, and might reveal other specific genetic markers that further elucidate Darwin's early observations of Galapagos finches.
With the age of the genome upon us, cross-disciplinary studies will be of increasing importance in giving new meaning to old research. Despite the years that have passed, Darwin's finches remain of central importance to studies of genetics and evolution.