While fossil fuel burning is a clear culprit in the release of ancient carbon reserves, a covert but significant source has gone largely unnoticed, until now. In December, five scientists, including three graduates of the Yale School of Forestry & Environmental Studies, identified erosion and human land-use as major factors in the return of ancient carbon to the environmental cycle.
The team reported in Nature Geoscience that between three and nine percent of the dissolved organic carbon (DOC) in rivers is aged carbon that has been disturbed and redistributed as a result of land use patterns, including deforestation, intensive agriculture, and human wastewater disposal. DOC is converted into atmospheric carbon dioxide by microbial activity and degradation by photons in aquatic systems. The Yale study notes that this process is strongly "analogous to the burning of fossil fuels" — the ultimate result is the same.
The negative impact of these land use patterns on atmosphere and environment is thus strikingly similar to the dangers that come with burning fossil fuels, though the path to environmental damage may be indirect.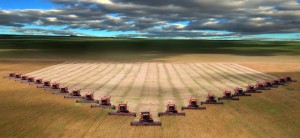 Aged carbon, seque­stered by plants and subsequently buried tens of thousands of years ago, typically remains earth-bound and separate from the contemporary global carbon cycle. Today, however, anthropogenic activities have caused the re-release of immense quantities of this ancient carbon. Erosion, runoff, and soil disturbance cause carbon deposition into nearby rivers and larger aquatic systems. This dissolved carbon is released as carbon dioxide, and it is being returned to the biosphere and atmosphere at a rate that far exceeds plants' capacity to take it up and return it to the soil.
To slow this trend, there are difficult but necessary steps that must be taken. The Yale study suggests restrictions on deforestation as well as regulations minimizing soil disturbance through agriculture and land development.
"Soil conservation and reduced-tillage methods of farming are ways to dramatically reduce the amount of runoff," said Jay Ague, Chair of the Geology & Geophysics Department at Yale. "This is one of these problems that's sneaking up on us," Ague said.
To sustain our biosphere, we will need to be more careful, not just about what we put into the earth, but what we take out of it.
Cover image: A deforested river system in Madagascar demonstrates the magnitude of soil removal and aged carbon release. Deforestation not only inhibits the recapture of atmospheric carbon dioxide, but also exacerbates erosion because tree roots no longer remain to absorb runoff and control soil loss.