For the average American, the smartphone is meant for keeping in contact with friends, Instagramming food, and posting selfies on Facebook. To the biomedical engineer, however, the smartphone is a powerful tool that can revolutionize healthcare as we know it. Using the smartphone and an attachable device, medical workers can now quickly test for human immunodeficiency virus (HIV) and syphilis without extensive training or complicated technology. In underdeveloped regions, this device could help prevent these diseases from spiraling into epidemics.
When left untreated, HIV and syphilis are devastating and highly communicable sexually transmitted infections (STIs). HIV is a viral infection that compromises the immune system, making it vulnerable to attack by many other pathogens. Syphilis is another STI that often leaves sores on the infected person's body. Since both diseases are highly contagious, one sick individual could potentially infect an entire community.
Current methods of detecting HIV and syphilis are insufficient, especially in third world countries. Diagnosis of these two conditions often requires a multitude of expensive and complicated medical technologies that cannot be reliably accessed in developing countries. When tests are possible, they vary in response time: Though some common tests can be done in a few days, others require multiple weeks before physicians can analyze results. The lengthy wait time between initial testing and official diagnosis can deter patients from getting tested. Since HIV and syphilis carry heavy stigmas in many societies, patients may be reluctant to visit clinics for testing in the first place, so they certainly do not need another excuse. Moreover, the lengthy wait time causes a delay in intervention for HIV and syphilis, which makes it easier for the diseases to spread.
To resolve these problems, a team of researchers led by professor Samuel K. Sia at Columbia University is channeling the power of smartphones to provide a faster and more convenient method of testing for HIV and syphilis. The team's product, a compact device that can be easily plugged into the audio jack of a healthcare worker's smartphone, uses three different STI indicators to test a patient's blood sample. Costing only an estimated 34 dollars apiece, the device is far more affordable alternative than a full laboratory of testing equipment. Furthermore, the test takes only 15 minutes to run, and the little power that it requires is provided solely by the smartphone, increasing the test's portability and dispersive use.
To build the device, Sia's team shrunk the usual technology used to test for HIV and syphilis down to a micro scale. HIV and syphilis both have specific antibody markers that the body produces to distinguish them from other viruses. Screening devices such as Sia's take advantage of this natural indicator. To detect these antibodies, Sia's device runs the blood through a chip that makes use of antigens, or small biological molecules that bind to antibodies. This chip attaches to the antibodies in the blood and detects whether they match the antibody markers known to be associated with HIV and syphilis in order to diagnosis these STIs.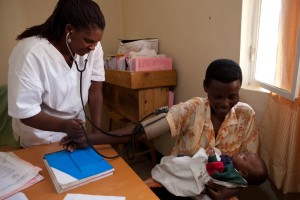 A recent field study conducted by healthcare workers in Kigali, Rwanda has tested Sia's device. The study's conclusions seem promising. When used to test 96 patients, primarily in clinics working to prevent mother-to-newborn transmissions, the device and its three STI antibody markers proved highly accurate. Healthcare workers needed little training to effectively use the device, which helped enable its low-cost implementation. These results are encouraging for the future of the device, not only in Rwanda but in many developing countries.
Sia's team continues to work toward the mass production and implementation of the device to increase rates of early STI detection. Still, the team is uncertain on its plans for the execution of large-scale manufacturing. In the future, the scientists hope to couple testing with the rapid delivery of antiviral medicines to treat any detected diseases. They also seek to secure the World Health Organization's approval for the device. Ultimately, Sia's vision is to increase the early detection of HIV and syphilis by almost 10 fold in underprivileged regions, preventing the complications of late stage infections. The team's work in harnessing the power of the smartphone with a small, but greatly influential medical device serves as an example to other scientists working toward modern global health innovations.
Cover Image: Since the device connects to the universal audio jack, it is compatible with all types of smartphones. This adds one more element to its convenience, making an even stronger case for worldwide implementation of this device to solve global health crises. Image courtesy of Area Mobile.