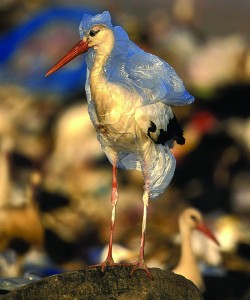 In what some environmentalists claim as a victory, city and county laws banning plastic bags have been sweeping the country from Alaska to North Carolina over the past few years. Plastic has long been blamed as a source of non-biodegradable waste, and many environmentally-minded citizens have been pushing for laws to restrict plastic bag use. Now, states are joining the trend as well, although not without opposition. While a ban may soon be passed in Connecticut, others have recently been delayed in California and prohibited altogether in Georgia. As these bans grow in popularity, alternatives to plastic bags have become champions of the environmental cause. Still, these alternatives also rest on some shaky scientific foundations.
Movements to ban plastic bags often cite the waste that these bags generate, especially when they are only used once. Since plastic bags are not biodegradable, their lifetimes are very long, with estimates ranging from 10 years in the wild to 1,000 years in a landfill. Consequently, these bags litter both urban systems and local ecology — they pollute city waterways and harm marine life. Proponents of plastic bag bans hope that these initiatives will encourage the use of bags made from alternative materials like paper or compostable plastic, which do not produce the same waste of plastic bags. Or, these bans could encourage the use of reusable bags, which generally eliminate waste altogether.
In evaluating the environmental costs of using bags made from different materials, scientists must consider a variety of factors. For example, while plastic bags add to landfills, paper bag production may require hazardous chemicals. To compare bag alternatives from a more holistic perspective, product designers and environmental engineers often use a technique called life cycle assessment (LCA). As its name suggests, an LCA requires careful attention to each stage of a product's existence. A plastic bag may be manufactured from raw petroleum products, transported to a grocery store where it will be used at least once to carry groceries home, and finally reused as a trash bag. LCAs inventory the material and energy inputs and outputs for products and processes, and assess how these flows can impact human health and the environment.
In 2011, the UK Environment Agency released a comprehensive LCA to provide general statistics for management and decision-making. The study compared the environmental effects of bags made from plastic, paper, compostable plastic, and cotton. Using Global Warming Potential (GWP), a metric that reflects each product's greenhouse gas emissions across its lifetime, the study revealed that compostable plastic bags produce the most emissions of the products tested. It is important to note that these statistics assumed that a plastic bag would be reused as a trash bag 40 percent of the time, that a paper bag would be used four times before disposal, and that a cotton bag would be used at least 173 times. If each were used fewer times, then the GWP rankings would change as well.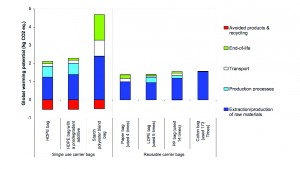 The Environment Agency LCA also studied other environmental concerns, focusing on each product's effects on issues such as human health, resource use, and environmental safety. While plastic bags proved more toxic to aquatic environments and more likely to deplete natural resources, paper bags caused more algal growth and were found to be more toxic to humans and terrestrial environments. Which factors are most important? Is global warming or resource consumption a greater problem? Do we emphasize the safety of the biosphere, or our own physical health? To decide between paper and plastic, we need to pick priorities of sustainability and learn to deal with the consequences of our choices.
LCAs provide us with quantitative data that can be used by politicians and voters alike to make informed environmental decisions. With the debate on what kinds of bags to use in a grocery store, consumers should be aware that the issues surrounding sustainability are incredibly complex. When we discuss our current bagging solutions, we should not just be thinking about throwing them away.
Cover Image: Plastic bags, including normal and biodegradable ones, often end up in landfills. Image courtesy of Earthrise.