In November 2014, Yale faculty signed a memorandum of understanding to create the Yale Ciencia Initiative, modeled after the Ciencia Puerto Rico program (Ciencia PR). Both programs aim to build a community and online platform to help students and educators come together and share information. The overarching goal is to increase access to knowledge and opportunities in science for traditionally underrepresented groups. The newer initiative will focus on the New Haven area, while Ciencia PR focuses on Puerto Rico.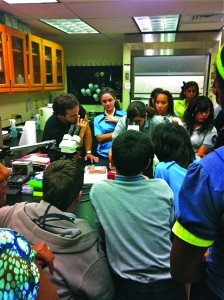 According to program leader Giovanna Guerrero-Medina, the Yale Ciencia Initiative has three main purposes: to study science networks and leverage them to help underrepresented groups, to develop knowledge and practices that can help other communities adopt the same model, and to improve Yale programs so that they enhance scientific training and professional development for students. Achieving these goals will involve continuing the work of Ciencia PR. For example, Guerrero-Medina and colleagues plan to study whether students' perceptions of scientific role models affect their understanding of and identification with STEM fields. The program also plans to publicize training opportunities, summer research, and graduate programs at Yale that link the sciences to underrepresented groups. The initiative will publicize Yale scientific studies via its online platform.
Guerrero-Medina began to develop the Yale Ciencia Initiative in January 2014. The program is also advised by Daniel Colón-Ramos, founder of Ciencia PR, and Jennifer Frederick, executive director of the Yale Center for Teaching and Learning. Yale Ciencia currently operates in various buildings on Science Hill, including the Center for Scientific Teaching and the Kline Biology Tower, but will transition to Sterling Memorial Library in 2016.
Cover Image: Ciencia PR networks a broad range of scientists from around the globe to connect with underrepresented students in Puerto Rico. Image courtesy of Giovanna Guerrero-Medina.