Students enrolled at the Yale School of Forestry and Environment Studies (F&ES) may soon see a much greener future — in more ways than one.
F&ES dean Peter Crane and the F&ES Leadership Council have raised more than $10 million in financial support for students enrolled at the school through a recent initiative. The number of endowed scholarships provided to F&ES students has increased by 42 percent over the last three years, and the new funds helped support more than 75 students of the roughly 300 enrolled this year.
According to Crane, the goal of the initiative is to allow students who go into environmental fields to graduate with as little debt as possible. "When [F&ES] provides some support for [prospective students] that's good for the school, too, because it helps attract the best students," Crane said.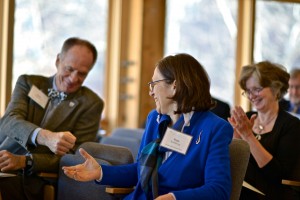 When Crane first looked into the feasibility of the fundraising plan, he and his colleagues saw opportunities and began to contact potential donors. The initiative began in October 2012. Pulling in funds from more than 140 donors — ranging from its Leadership Council to supportive corporations and foundations — the initiative reached its initial goal of $5 million by April 2014, prompting the council to raise its goal to $10 million. "We did much better than we thought we might," Crane said. The efforts concluded in June 2015.
The school plans to continue its scholarship initiative in addition to launching new programs, such as a research laboratory at Yale-Myers Forest, a food and agriculture educational program, and a number of other efforts to strengthen the school's curriculum.
Crane remains optimistic for the year ahead. "Pushing ahead with scholarship fundraising this year is not going to be easy, since we've exhausted the obvious friends we could approach," he said, "but I still think there's great potential and I do expect to make a bit more progress."
Cover Image: The F&ES is based in Kroon Hall on Prospect Street. Image courtesy of Yale F&ES.