An organ transplant comes with a slew of complications, but perhaps the problem most overlooked is preserving the tissue once it is removed from the donor. Current means of storing intestines before they are transplanted involve simply a container filled with ice. Until now, there has been little progress in developing more effective, efficient preservation strategies.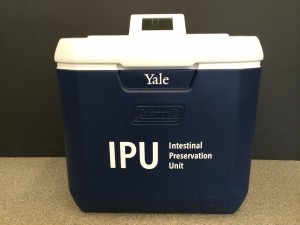 The nascent company Revai, the product of a collaboration between the Yale Schools of Engineering, Medicine, and Management, addresses the challenge of preserving intestines for transplant. Company leaders John Geibel, Joseph Zinter, and Jesse Rich have developed the Intestinal Preservation Unit, a container that diffuses the liver's lumen and blood supply simultaneously and independently at a rate determined by the surgeon. This "smart" container collects real-time data on temperature, perfusion time, and pump flow rates, allowing doctors to monitor all vital storage parameters. The technology has the potential to extend the lifetime of intestines in between patients.
"It's the first time we have something new for this particular organ," Geibel said.
Revai has demonstrated that the preservation unit decreases the rate of necrosis, or massive cell death, in pig intestinal tissue. This exciting result held up when the unit was tested on human samples through partnerships with New England organ banks.
"We're the only team currently presenting peer-reviewed data on testing with human tissue," said CEO Jesse Rich, proud that Revai is a frontrunner in this area of exploration.
Students in a Yale class called Medical Device Design and Innovation built the first functional prototype of the Intestinal Preservation Unit for testing. The device went on to win the 2014 BMEStart competition sponsored by the National Collegiate Inventors and Innovators Alliance. Revai plans to continue product development and testing for the unit, and will seek FDA approval to commercialize the device.
Cover Image: From left to right: Manuel Rodriguez-Davalos, John Geibel, Joseph Zinter, Salim Munoz Abraham, and Roger Patron-Lozano. Image courtesy of Revai.