"When is a strawberry dead?" This quirky question is one of many that have sparked debates on BBC Radio 4's science-meets-entertainment podcast, "The Infinite Monkey Cage." It is indicative of the show's character — nonsensical musings intertwined with a surprising scientific curiosity.
The infinite monkey theorem (supposedly the show's namesake) stipulates that a monkey sitting at a typewriter for an infinite amount of time will eventually type any given literary text. In this case, merit is just a matter of probability. The podcast has far less than an infinite amount of time — episodes typically run for half an hour. Nevertheless, the program reaches understandings that are delightful and valuable, even if broad in regard to hard science.
Since beginning in 2009, the program has produced 12 series, a U.S. tour, and extended podcast versions of most episodes from 2013 onward. The program is led by University of Manchester particle physicist Brian Cox and comedic writer Robin Ince. Together, the odd pair brings whimsy to the podcast.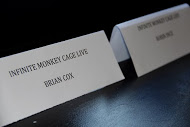 Each episode begins with a theme, such as forensic science, pandas, death, or parallel universes. Cox and Ince are joined by a panel of three guests — usually experts in the given field or entertainers. As the show has garnered popularity, the guests have been more well known. Evolutionary biologist Richard Dawkins, astrophysicist Neil deGrasse Tyson, and a handful of famous British actors have all served on a Monkey Cage panel. Questions like "when is a strawberry dead?" spur lively discussion. Is a strawberry still alive as photosynthesis continues? How do we define death? Is it dependent on the definition of life? The conversations progress with an impressive and natural flow, a credit to Cox, Ince, and the show's enthusiastic tone.
However, the podcast's effort to bring scientific inquiry and humor together is less smooth. Either the humor is buried beneath data and concepts, or the science is oversimplified for the sake of amusement and accessibility. Perhaps this is less the podcast's fault than it is the nature of its goal to make science humorous and appealing to a general audience. Still, what the podcast lacks in scientific detail, it makes up for in charm. Listeners will find episodes amusing and thought-provoking, but they should not expect to become experts on the scientific specifics.
So, when is a strawberry dead? There is no definite answer. But, with some rumination (and jest), "The Infinite Monkey Cage" opens up a new line of thought for its listeners.
Cover image: "The Infinite Monkey Cage" attempts to bring science and fun listening together. Image courtesy of Tracy Chung.