Over 100 million years ago during the Early Cretaceous, a revolution occurred that drastically changed terrestrial ecosystems around the world: the emergence of flowering plants, or angiosperms. Due to a lack of direct physical evidence, the ecological strategies that allowed these early angiosperms to survive and flourish during the sweltering climate of this time period had long been subject to speculation. However, in late 2015, beautifully preserved fossils of early angiosperm seeds unearthed in Portugal and North America revealed the importance of small embryos and seed dormancy to the biology of these early flowering plants.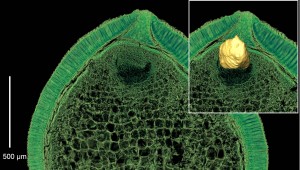 A team of researchers at the Yale School of Forestry and Environmental Studies analyzed 250 of these seeds, all of which were about 125 million years old. Led by Else Marie Friis, a visiting professor at Yale FE&S, the seeds were visualized with synchrotron radiation x-ray tomographic microscopy. This microscopy technique uses high-energy x-rays to penetrate the specimens, allowing internal features to be visualized in three dimensions without any damage. The team observed remarkably well-preserved seeds, smaller than a grain of sand; in some cases, the seed embryos were completely intact, along with remains of their nutrient supplies.
All of the seed embryos were tiny, indicating that they were underdeveloped when the seeds were dispersed so long ago. "Unless suitable conditions were available immediately, growth would have stopped [prior to full development] and would have only continued when the conditions became favorable again," said Peter Crane, Dean of Yale F&ES and one of the researchers involved in the study.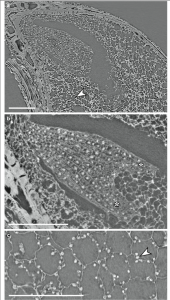 According to Crane, the ability to stop embryonic development for a period of time—a survival mechanism known as seed dormancy—would have been useful and necessary for the undersized embryo. In fact, based on comparisons to modern plants, Crane said that the seeds were found to exhibit "morphological dormancy." This results in delayed germination even in favorable environmental conditions, because of the time needed to allow the embryo to develop. Thus, the small underdeveloped embryo of these early flowering plants was both a blessing and a curse. Without it, the seeds would not have been able to use dormancy to survive harsh climates; but with it, their capacity for fast germination was crippled.
The discovery of these small seeds sheds light on one survival strategy of ancient angiosperms: the ability to delay development until truly favorable conditions arose. Early angiosperms may have escaped all sorts of trouble—such as the asteroid that killed the dinosaurs—by waiting out the bad times. Today, they thrive in almost every terrestrial ecosystem on Earth.