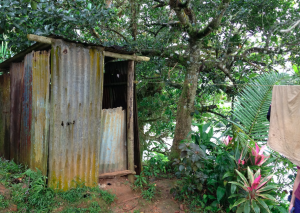 In Fiji, some toilets are built on riverbanks, allowing fecal matter to pass directly into nearby rivers where locals obtain drinking water. This creates the perfect breeding ground for waterborne diseases like typhoid fever.
With the help of a $609,150 grant from the Bill & Melinda Gates Foundation, Yale School of Public Health professor Virginia Pitzer will develop statistical and mathematical models to estimate the cost-effectiveness of a new typhoid vaccine in countries like Fiji.
Typhoid is caused by the bacterium Salmonella typhi, which is typically transmitted through contaminated drinking water. Causing up to 270,000 deaths per year, typhoid can lead to symptoms including high fever and abdominal pain. Though chlorination and filtration of drinking water can greatly reduce its incidence, over 21 million people still suffer from typhoid yearly due to poor sanitation.
Current typhoid vaccines use the typhoid Vi antigen, triggering the immune system to produce antibodies. However, these vaccines are only effective for three to five years. A longer-lasting Vi-conjugate vaccine is in development; it combines the typhoid Vi antigen with another antigen, stimulating a stronger immune response. The Vi-conjugate vaccine can also be safely administered to infants, unlike current vaccines that cannot induce protective levels of antibodies in young children.
Her models will account for both direct protection from the disease received by vaccinated individuals as well as indirect protection from the decreased transmission of typhoid. "These models can allow us to explore how best to use these new vaccines in developing countries," Pitzer said. "It will be useful for informing policies when the vaccines become available."