Meet Olivia Pavco-Giaccia. She is a typical Yale College student majoring in cognitive science. She plays the cello in Low Strung—an all-cello rock group—played with the Yale Symphony Orchestra, and she is in the Kappa Alpha Theta sorority. She is also the CEO of her own social enterprise company.
Olivia Pavco-Giaccia is the founder and CEO of LabCandy, a company aimed at getting girls and boys in kindergarten through third grade interested in the sciences. LabCandy sells kits that each contain a colorful lab coat, a DIY goggle kit, and an interactive storybook featuring a young girl who uses science to save the day. The kit is designed to promote the message that scientists are not only old men in a white lab coats. Young scientists with the kit can personalize their own lab style, identify with the main character in a science book, and even complete some of the experiments from the book. Essentially, the kit offers an accessible connection to science from a young age.
Pavco-Giaccia herself would not have become interested in science if not for a stroke of luck. "I had never thought of myself as a 'science kid, ' but got really lucky, and had the incredible experience of studying with a few amazing science teachers," Pavco-Giaccia said. Her teachers—namely her seventh grade biology teacher and her high school advisor—cinched her interest in science. But her interest in neurobiology stemmed from her family. According to Pavco-Giaccia, her grandfather's struggle with Alzheimer's disease and her own experience with a serious concussion inspired her to enroll in a summer neurobiology course during high school, sparking her subsequent interest in cognitive science. Even as a senior in the midst of her thesis, Pavco-Giaccia has only kind words for her major. "It's a relatively small major filled with really cool people. The interdisciplinary opportunities for study are exciting, and the professors are just fabulous," Pavco-Giaccia said.
The inspiration for LabCandy came long before Pavco-Giaccia's college years began, however. The summer after her junior year, Pavco-Giaccia worked in a neurobiology lab at Stanford. While conducting research, she maintained a science blog targeted at young girls. One day, she posted a picture of her bedazzled lab goggles and was amazed by the response she received. "I was flooded with comments from little girls asking me where I got the goggles," Pavco-Giaccia said. That moment resonated with Pavco-Giaccia, but amidst a tide of college applications and the obligations of senior year, her idea to promote the goggles was put onto the backburner.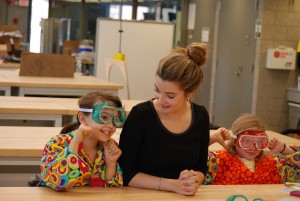 It was not until her first year at Yale that Pavco-Giaccia reconsidered the goggles. She saw a flyer posted by the Yale Entrepreneurial Institute (YEI) and made an appointment with the staff to chat about her idea to make sparkly goggles for young girls. She applied for, and was subsequently awarded, a YEI fellowship to stay in New Haven over the summer in order to build LabCandy. She was the youngest summer fellow ever. She spent that summer talking to parents, educators, and scientists, trying to refine her product. After these discussions, Pavco-Giaccia realized that she needed to move beyond goggles to create a better product, so she added a lab coat and interactive storybook to the kit. When she pitched the complete kit at the YEI summer pitch competition, she tied for first place and was awarded prize money to start selling prototype kits.
Mass-production turned out to be the biggest challenge. To fund the project, Pavco-Giaccia turned to Kickstarter. The campaign aimed to raise $20,000 in 30 days, but it reached its goal after just three days, and raised more than $30,000. Afterwards, Pavco-Giaccia collaborated with the Yale Publishing and Printing Services to produce the storybooks. Finding a company to produce the lab coats was more challenging. She had a difficult time finding the exact type of fabric she needed: a thick, brightly-colored cotton fabric. After multiple trips to New York City's garment district led her to a manufacturer Minnesota able to produce the lab coats according to her specifications. Although the distance between Yale and Minnesota made communication difficult, the partnership was successful and the lab coats were made. Finally, Pavco-Giaccia had a complete, sellable kit.
In just a few months, Olivia Pavco-Giaccia will graduate from Yale already owning and runnin a successful company. She has created a product that addresses gender in science. After graduation, Pavco-Giaccia has several optiosn, but she knows she will continue with LabCandy. In the meantime, her goal is to fully enjoy her last semester at Yale.