Infant mortality is a serious and persistent global challenge. Each year, approximately three million newborns die within the first 28 days of life. More than half of these deaths stem from various lung deficiencies. In low-income countries that have limited access to electricity, clean water, and air, the availability and variety of treatment options is severely limited. In order to save many of these young lives, more affordable and reliable respiratory care systems must be developed.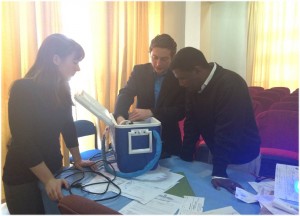 A Yale-based startup, known as PremieBreathe, is working towards this end. Founded in 2014 by Charles Stone '14, Katy Chan '15, Shirin Ahmed '12, and Jordan Sabin '16, PremieBreathe is working to develop a respiratory therapy that can reduce breathing difficulties in infants whose lungs cannot function effectively on their own. According to PremieBreathe's website, this "low-cost, low-tech" device can be employed in countries that lack effective and affordable treatments.
The team is led by Yale professor of biomedical engineering Angelica Gonzalez, as well as clinical advisor Dr. Lei Chen and engineering mentor Dr. Larry Wilen. The Yale Global Health Leadership Institute has also supported the project since its inception. In October of 2015, PremieBreathe was admitted into the Yale Entrepreneurial Institute's (YEI) Global Social Venture Creation program. This program provides PremieBreathe with valuable resources, such as mentorship in developing their business, connections to the industry, and additional funds to support research trips to Ethiopia.
Prior to their admittance into YEI's program, in September 2014, PremieBreathe successfully developed a prototype of their respiratory device for just 10 percent of the average commercial cost. "Given the specific parameters we needed to match, and the necessity for low-cost components, we innovated by using existing technology with a new design, in order to reduce production costs of the device," Chan said.

PremieBreathe's respiratory device is a humidified high-flow nasal cannula system, which delivers regulated amounts of oxygenated air to infant lungs. In order to mimic the conditions found in the infant's esophagus and respiratory tract, the air is humidified to approximately 90 percent and warmed to around 32 degrees Celsius prior to delivery. This is accomplished through the heating and vaporization of a water source in the device. Such carefully maintained air will flow into the lungs through a nasal cannula—a tube inserted into the nostrils—at a maximum rate of 10 liters per minute.
"[Designing the prototype] was a constant evolutionary process," Stone said, adding, "[We were] continually building and improving upon our design, figuring out how to deploy it in a low-resource setting where hospitals may have limited access to water, air, and electricity."
After creating a functional prototype, the team traveled to Ethiopia in January 2015 to collect design feedback, visit intensive-care units, and collaborate with medical professionals. They applied their insights and observations to further improve their prototype. Since then, the team has made several subsequent trips to Ethiopia to address additional aspects of the design and implementation process.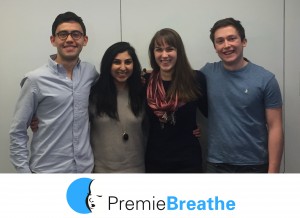 The PremieBreathe team is currently working on partnering with a professional, industrial design firm to ready their device for human use. They also plan to gather additional clinical data regarding how their device may be used in a hospital setting. Eventually, the PremieBreathe team will determine a market entry strategy for their product in Ethiopia.
PremieBreathe's interdisciplinary team members have come together to use their skills for a greater and global good. Through its goal to reduce infant mortality, PremieBreathe has helped to unite engineers, global health experts, and medical professionals from Yale and beyond. "The amount of cross-disciplinary collaboration involved is one of the most rewarding and enjoyable parts of this project," Stone said, adding, "Every part of the project gains input from all people from a variety of fields. You can't design a prototype in a vacuum."