A project that began in a Yale classroom has since grown into a thriving and ambitious startup that promises to revolutionize the nanotechnology industry and change how we test potentially contaminated water. Monika Weber, an Electrical Engineering Ph.D. candidate, founded Fluid-Screen, a startup company now operating out of Cambridge, MA that offers a better method of testing water for pathogens.
Contaminated water is a serious public health concern. Globally, an estimated 3.4 million people die from contaminated water each year, and millions more fall ill. Clearly, the ability to test water for pathogens is essential to reducing the number of people who succumb to water-borne illnesses. Currently, the most widely used method of testing water involves sending a sample to a lab and waiting days for the cell culture results. Though effective, this method is slow, relatively expensive, and requires a lab to test the water sample.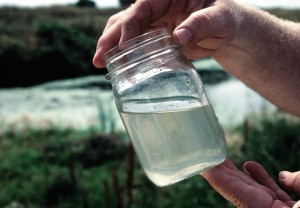 Weber's startup aspires to solve this problem by providing a faster and cheaper way to test for water contamination. According to Mark Reed, applied physics and electrical engineering professor and Weber's mentor in the project, Fluid-Screen will provide a portable way to rapidly test water for pathogens. "The idea of Fluid-Screen is to be able to [test water] in a very nice portable format, to be able to test things quickly in the field, and to potentially do it much cheaper," said Reed. Fluid-Screen is producing a hand-held device capable of testing for pathogens on site and within 30 minutes, a vast improvement over the current multi-day process. The Fluid-Screen device will contain small nanosensors, miniscule devices able to discern different pathogens, on a disposable microchip. Weber told the Hartford Courant that each device will use one disposable microchip per test and will cost as little as one dollar for each use. This microchip will be set to detect individual pathogens, such as E. coli, by pulling them out of the water sample with an electronic field. The device will then relay test results to a smartphone. By allowing for faster and more cost-efficient water testing that can bypass laboratories, this technology could reach underdeveloped countries where lab testing is not yet available or not financially viable.
Reed explains that Fluid-Screen employs a phenomenon called dielectrophoresis, where a non-uniform electric field imparts a force on a neutral particle or object, such as a cell. "You create an electronic track able to pull out [the pathogens] that you are looking for when you pass water over it," he said. The device will be able to be set to detect a multitude of pathogens, so that only a single device will be required to test water for a wide range of bacteria. The device will also be incredibly sensitive, cable of discerning as little as a single bacterium in a 100 mL sample with 99 percent accuracy.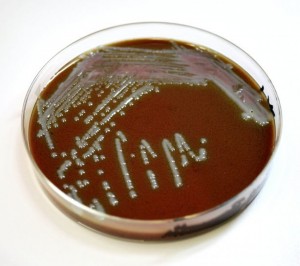 Although dielectrophoresis is not a newly discovered phenomenon, Weber and Reed were the first researchers to apply it to this type of pathogen detection. "Every once in a while, you stumble into something where people have not delved into it enough, and that's what I saw here—other people missed a few points," said Reed. He credits the discovery of this novel application to his multidisciplinary lab, which contains researchers focusing in electrical engineering, applied physics, biomedical engineering, mechanical engineering, and chemistry. "That is just the kind of environment that I like, because I think that it opens up a lot of interesting potential new applications," said Reed, who has had other former students succeed in founding startup companies. SeLux Diagnostics, also based in Cambridge, MA, was founded in 2014 by two former members of Reed's lab and is developing an assay to simplify laboratory diagnostics. While the company's technology was not developed in Reed's lab, he says that he is still in contact with his former students and may collaborate with them in the near future.
According to Reed, Weber's project began about four years ago, when she was taking a class in microelectromechanical systems (MEMS). "The class project was to come up with some sort of interesting device idea," he said. Weber came up with the idea for Fluid-Screen, and then Reed's lab received a grant from the Defense Threat Reduction Agency, a government agency that is part of the US Department of Defense, to test the viability of the idea and further develop the underlying science. Weber continued to develop the idea, eventually winning additional funds from several student startup competitions, including the prestigious MassChallenge competition. Overall, she has secured more than $340,000 in total for Fluid-Screen and has received a patent for the concept. Since Yale is a non-profit organization, it does not allow companies to use its lab space: once Weber launched her company, she stopped using Reed's lab to develop the Fluid-Screen technology and moved her company to Cambridge, MA.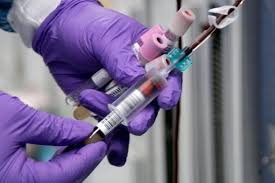 Weber looks to capitalize on Fluid-Screen's early success by taking her project to the market. Fluid-Screen has already prototyped a product and plans to have it commercially produced by this September. Once Weber succeeds in manufacturing a device to test water, she plans to expand the use of her technology to cover other important applications. "Once we perfect the device with water testing, we intend to move on to other applications, such as blood and urine testing," Weber said, in her interview with the Hartford Courant. With these new abilities, the device could also replace the need for a lab to test blood and urine for bacteria.
Clearly, Fluid-Screen seems poised to positively benefit the world by producing a product that will be faster, cheaper, and more effective than lab testing.  "I think the mission of a company is important. I'm proud to do work that's makes a difference," Weber told the Hartford Courant. And if her company continues to expand, she could stand to receive a large payday. Fluid-Screen estimates a one billion dollar potential market for its water testing product alone. Money aside, Fluid-Screen could significantly impact and improve water testing, especially in parts of the world that struggle with polluted and contaminated water.