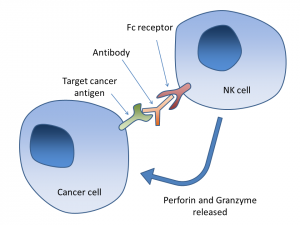 For much of the history of medicine, few imagined harnessing the immune system to treat cancer. Today, immuno-oncology has become one of the hottest fields in biomedical research.
The future of cancer immunotherapy may be shaped by groundbreaking discoveries from the laboratory of Yale University professor of chemistry David Spiegel. In September 2016, Kleo Pharmaceuticals—the company launched by Spiegel's research—received Series A funding from Biohaven Pharmaceuticals to transform benchwork into viable treatments for patients. The immunotherapies being developed by Kleo utilize small molecules that encourage the immune system to target and kill particular types of diseased cells.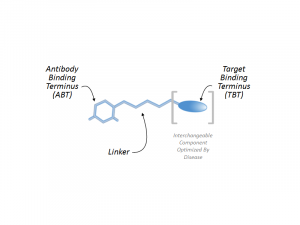 To achieve this end, Kleo Pharmaceuticals is developing two drug platforms: antibody recruiting molecules (ARMs) and synthetic antibody mimics (SyAMs). Both are over a hundred times smaller than current antibody-based therapies, which are classified as biologics. This particular type of drug is derived from genetically engineered organisms. These small molecules have been tailored to more efficiently infiltrate tissue compared with most other biologics. The molecules can be engineered to have different targeting mechanisms, giving the platforms significant versatility in treating various diseases.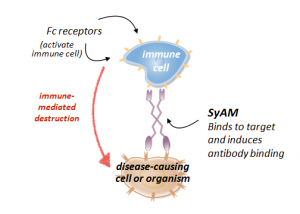 The structures of ARMs and SyAMs are similar, each with two unique binding heads. Common to both is the target binding terminus head, which binds to markers on the surface of diseased cells. In ARMs, the second binding head functions as an antibody-binding terminus, which facilitates attachment to antibodies—proteins produced by the body to fight disease. The antibody-bound ARMs surround abnormal cells in order to activate an immune response, which ultimately results in the cells' death. The second binding head in SyAMs is the immune binding terminus, which attaches to the patient's immune cells, rather than antibodies. IBTs link these immune cells to diseased cells, creating a complex that can further stimulate the immune system to attack the harmful cells. 
"Biologics have been the gold standard for immunotherapies. With ARMs and SyAMs, we have the opportunity to raise that bar," said Spiegel in a Biohaven press release. Kleo may be in its early stages, but its technology has the potential to revamp the way we combat cancer.