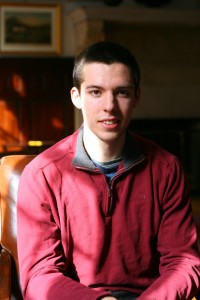 To watch a video interview with William Zeng, click here.
For many Yale students, getting a minimum of seven hours of sleep a night is already an accomplishment. William Zeng BK '11 manages not only this but also rows on the lightweight crew team and conducts cutting edge research in quantum informatics. In light of his accomplishments, it is little surprise that Zeng was selected as a Rhodes Scholar this year.
The Rhodes Scholarship, which provides the opportunity for two to three years of expense-free postgraduate study at the University of Oxford, is widely considered to be the most prestigious scholarship in the world. Candidates are judged on their academic achievements, physical vigor, and moral character – a comprehensive blend of qualities that amounts to more than just intellectual excellence. Each year, 32 scholars are chosen from the United States. Applicants must first be endorsed by their universities, then undergo a two round process. Two winners from each of 16 regions are ultimately selected.
For Zeng, the process began over the summer of 2010. He contacted his research advisors, Robert Schoelkopf and Michel Devoret, and also consulted the Yale scholarship office, which after endorsing him, offered many opportunities for practice interviews. "Overall, everyone was just extremely helpful, and I'm thankful for that," Zeng says. A few weeks after submitting his application, he received a congratulatory email inviting him to advance to the final stage of the competition.
The final round of the competition was held in Georgia, where a board of seven former Rhode Scholars interviewed Zeng and the 14 other finalists in the region. After a day of interviewing the finalists, the board announced the two winners: "They came out and just told me I got it. It was kind of weird. I just thought, well, I guess I'll call my parents."
Zeng first considered the Rhodes Scholarship last June while doing research at ETH Zurich in the Andreas Wallraff 's Quantum Device laboratory. A rising senior at the time, Zeng was considering post-graduation plans. He explains that the typical path for physics majors is to follow your undergraduate degree with a Ph.D., perhaps while taking classes, before heading into full-time research. "I knew that I wanted to spend some time working on mathematics and contextualizing background information, so I was looking for something to do between now and my Ph.D." The Rhodes Scholarship fit the bill perfectly.
"Also," Zeng adds, "Oxford happens to be a fantastic place to row." Zeng first started rowing in high school and has competed internationally on the men's lightweight crew team at Yale. He plans to continue rowing at Oxford, whose graduate rowing team is very competitive and internationally renowned.
When Zeng is not at practice, he researches in the field of quantum information, which merges quantum mechanics with information theory and computer science. While his research interest lies in quantum information, he hopes that his studies at Oxford will complement his future research plans. "If we want to design a quantum computer, we should probably use the language of computer science to natively describe what's going on."
Though the quantum physics research of an aspiring physicist and the grueling training schedule of a varsity rower seem worlds apart, Zeng is keen to draw parallels between his athletic and academic achievements: they both require diligence and perseverance. "It doesn't surprise me that excellent academic institutions have excellent rowing teams."
Zeng will pursue a Master of Science in Mathematics and the Foundations of Computer Science at Oxford in October.
After Oxford, Zeng intends to obtain a Ph.D. and pursue a career in research.