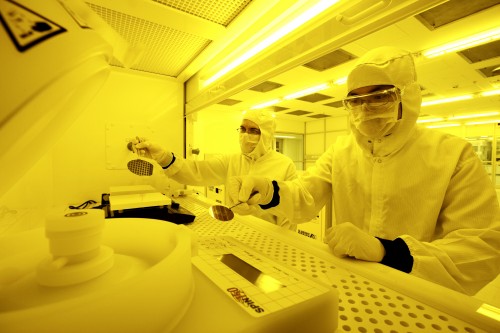 In a breakthrough for the field of quantum computing, researchers have successfully altered a single electron's spin. Led by project leaders Dr. Andrea Morello and Scientia Professor Andrew Dzurak of the University of New South Wales, the team of researchers has developed a novel technique to write and read an electron's spin state and has therefore invented the first working quantum bit.
In conventional computers, electrons are forced to move through wires and transistors, providing the "1s" and "0s" of the classical bit. With decades of innovation, electrical engineers have shrunk transistors into microscopic silicon chips; however, the chips can only be shrunk so much before cooling and causing reliability problems to arise.
Just as the basic unit of a classical computer is a bit, the basic unit of a quantum computer is a quantum bit, or qbit. A clockwise "up" spin represents a "1," whereas a counterclockwise "down" spin represents a "0." For a qbit to function correctly, users must be able to read and write a qbit.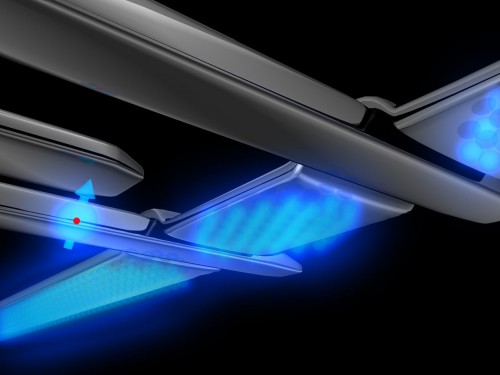 To start constructing an electron spin qbit, the researchers isolated and bound an electron to a phosphorus atom. Phosphorus "captures" an extra electron whose spin could then be used as a qbit. Furthermore, "the phosphorus nucleus also has spin, which constitutes an additional quantum bit" that can also be exploited. The phosphorus atom was, in turn, constrained to a silicon chip. Silicon has the helpful property of retaining the spin of the qbit for a long "coherence time" before the spin disappears.
The researchers then developed a method to read a qbit. The electrons, after being captured by the phosphorus atom, were placed close to a "SET island." The SET island is specially constructed, so that only electrons with "up" spins can move over to the island. Using the SET island allowed researchers to differentiate between the "up" and "down" spins of electrons.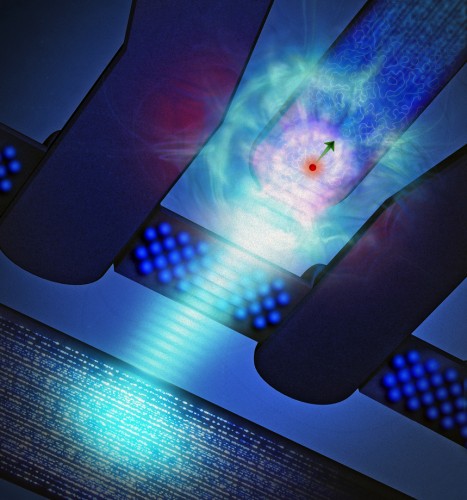 Now researchers needed to find a way to write the spin onto an electron. To do so, the researchers bombarded the phosphorus atom with modulated microwaves. The microwaves, transmitted in short pulses, generated a magnetic field that reversed the spin of the captured electron.
According to Dzurak, "this is really the key breakthrough in realizing a silicon quantum computer based on single atoms." The device is "the quantum equivalent of having built the first transistor" says Morello. Even better, the qbit can have many spin states at the same time, called "entangled states," which allows exponentially more information to be stored and accelerates computing time.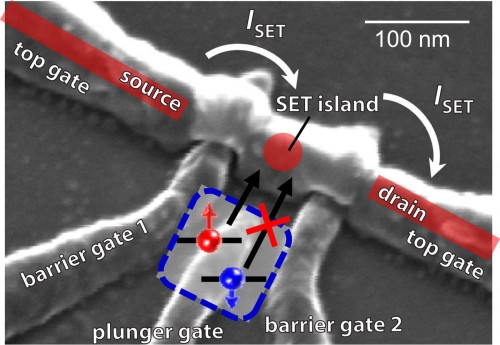 The next step, says Morello, is to couple two qbits together into a quantum logic gate and design a reliable way for distant qbits to communicate with each other. This will take five years, and a working quantum computer prototype can be expected in 20 years, predicts Dzurak. Morello also adds, "the software that runs on a quantum computer will be radically different from what we use now." The two scientists believe quantum computing will lead to a new generation of supercomputers that can model complex molecules, manage better databases, and even simulate larger quantum computers. Although many challenges remain before a quantum supercomputer is available, Morello and Dzurak have passed an obstacle in producing the first electron spin quantum bit.