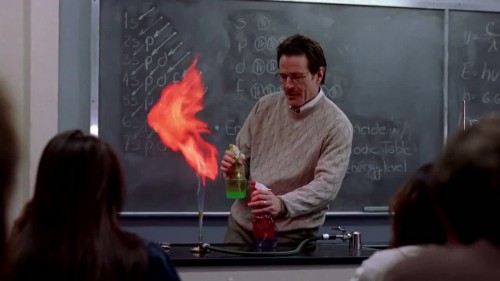 As the Emmy-award-winning hit television series, Breaking Bad, approaches its series expiration date in its fifth season, many avid fans still wonder: is there validity behind the science fiction?
Walter "Walt" White – a brilliant high school chemistry teacher turned methamphetamine chemist – confides in former student, drop-out, and drug dealer Jesse Pinkman about a potential partnership as a means to help Walt pay for his inordinately expensive cancer treatment bills. Walt's synthetic chemistry background, combined with Pinkman's drug dealing connections, allow the two business partners to produce the purest crystal methamphetamine on the market. After realizing the handsome profits that could be made, Walt makes a complete life change – employing a hubristic moniker, Heisenberg, and a fatalistic attitude. Throughout the five captivating seasons, Walt uses his scientific background to teach Jesse and his enemies a lesson or two about the power of knowledge.
From suffocating rival gangsterswith poisonous phosphine gas that Walt made by throwing red phosphorous into boiling water, to exposing of the remains of a corpse using hydrofluoric acid in a bathtub, to producing an impromptu electrochemical cell in order to jumpstart a dead car battery in the middle of the sweltering dessert, the science in Breaking Bad is quite a prominent aspect of the show. But how real is it?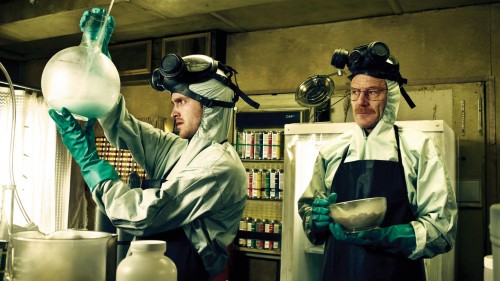 Dr. Donna Nelson, an organic chemistry professor at the University of Oklahoma and a scientific advisor to the writers of Breaking Bad, dashed some of the concerns that many people have had with the science being portrayed in the show. Throughout the interview, Dr. Nelson continued to stress that Vince Gilligan, the creator, director, writer, and producer of Breaking Bad, wanted nothing more than to "get the science right in the show. [Initially, the writers] had to get their science content from the web and Wikipedia."[1]
"What I heard many people say is that we need a primetime television show about chemistry. And when I saw [the premise of Breaking Bad], I said 'this is exactly what everyone has been saying that we need!' And then I thought that this is about illicit meth production. This is awful!'" says Dr. Nelson. [1] Yet, after a few episodes she realized that the drug dealer lifestyle was represented so negatively and crudely that she decided to help them out. Consulting her on chemical structures, calculations, and even the specific character traits of a scientist, Gilligan and his writers sought to accurately portray a high school chemistry teacher.
While Dr. Nelson did not directly come up with the scientific tricks that Walt used throughout the series – such as throwing fulminated mercury, a crystal meth lookalike, to the ground to blow up the top floor of a building – she notes their accuracy, while conceding to some of the exaggeration. "Mercury fulminate really is explosive, but you would need more than just that one crystal to devastate that floor," says Dr. Nelson. [1] Dr. Nelson continued to point out that Breaking Bad never had the pretense of being a science education show. As such, exaggerations – based off of a more large-scale truth – are tolerated as they allowed Gilligan to find a popular nexus between accurate science and creative screenplay.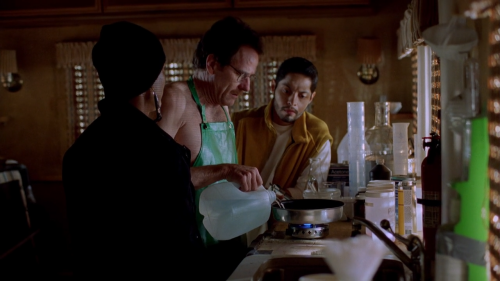 In yet another example of exaggerated truth, Walt instructs Jesse on a makeshift method of producing thermite, a metal-powder that undergoes a highly exothermic oxidation-reduction reaction capable of melting metal. "It's just like in that episode when they used etch-a-sketch toys to make thermite. They used something like six or eight [etch-a-sketches], when in reality you would need something like thirty or forty to produce the amount of thermite that they show in the bag. So, okay, they're not showing all of the etch-a-sketches. Maybe they have another thirty in the closet that they're not showing on camera. I think that you have to give them [the writers] some artistic license in all of this and so, to me, all of those etch-a-sketches aren't really that important." [1]
Proud of her contribution to the series, Dr. Nelson's favorite moment occurred in a scene that she had direct involvement with. Helping the writers with the dialogue, Dr. Nelson said, "one of my favorite moments was when Walt was talking to Gus Fring (a high-level drug lord), asking him what chiral center [a non-superimposable mirror image of a molecule] is destroyed, was it C1 or C2? Walt showed his power as a chemist. It makes a chemist look very powerful and I think that it is good to present a scientist as a powerful person."[1][2]
Although Dr. Nelson was not consulted on the actual production of methamphetamines, the Drug Enforcement Administration was. The continued desire to stick to reality and science, evident through conversation with Dr. Nelson, might be a large reason for the widespread success of Breaking Bad. And while certain experiments were not conducted under exacting scrutiny or exaggeration, there is always more truth than fallacy to it.
Sources:
1) Interview with Professor Donna Nelson, University of Oklahoma Chemistry Department, interview on 9/18/13.
2) https://www2.chemistry.msu.edu/faculty/reusch/virttxtjml/sterism3.htm
Acknowledgments: The author would like to thank Professor Nelson for her time and willingness to discuss her involvement in Breaking Bad, as well as her views on undergraduate science education in an entertaining and intelligible manner.