A heart takes its last beat.  A life is lost. Yet, with recent medical advances, that heart now has the potential to be reactivated and transplanted into another patient.  Countless lives can be saved with this new surgical innovation.
Current methodology for heart transplants is widely ineffective. Only about 72 percent of donors hearts are actually transplanted for a variety of reasons. Many donor hearts develop biochemical abnormalities following brain death or cannot be adequately preserved under cold storage conditions.  Even when the hearts have been harvested and are in good condition, the cold storage may do irreversible damage and not allow for proper transplant. Sometimes this damage cannot be seen until the heart has been transplanted and the surgeon cannot sustain flow or heartbeat.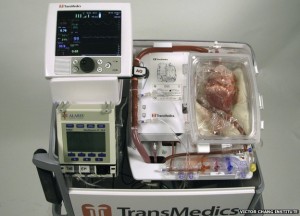 With revolutionary "heart-in-a-box" machines successfully tested by a team at St. Vincent's Hospital in Sydney, Australia, hearts that have stopped beating can be revived after circulatory death. Traditionally, the heart was the only organ that could not be harvested after this form of death had taken place. Hearts were usually collected from patients who were declared to be brain dead, and then kept on ice for around four hours so they could be preserved just enough to transplant into their recipients.  Now, a heart from a deceased patient can be kept warm and provided with nourishing fluids to help reduce the incidence of cardiac muscle injury. The theory is that if the heart can be maintained at body temperature, then it will sustain less damage as compared to its frozen counterparts.
Although relatively new, this technology has been widely accepted throughout most of Europe and Australia and is almost ready for clinical use in the United States. With the potential to save up to 30 percent of lives by increasing the number of organs available, surgeons are ready to embrace this advance. Similar methods that improve the quality of lungs and livers prior to transplant have improved the efficacy of these surgeries. Ultimately this technology decreases rejection, increases survival rates, and makes organs more readily available for transplant.
The heart-in-a-box has given new life to the patients it has impacted thus far. Only two months after her procedure was conducted, the first recipient of this innovative surgery, Michelle Gribilas, age 57, who suffered from congenital heart failure said, "Now I'm a different person altogether. I feel like I'm 40 years old—I'm very lucky." Since Gribilas, another two successful transplants using this technology have been conducted.
It is estimated that approximately 18 people die unnecessarily each day waiting for transplants. As the waitlist for organs increases, and the number of donors remains relatively the same, the number of people who pass away due to lack of available organs would continue to rise if not for technologies like heart-in-a-box. Medical technology is a rapidly advancing field with new innovations taking place every day. With this development, physicians and scientists alike are making immense strides towards saving their patients' lives.