People like to say, "When you fall down, get back up." But for a tortoise turned over onto its shell, righting itself may not be so simple.
A new and intriguing study on Hermann's tortoises has found a relationship between shell geometry and ability to turn over. The study, conducted by biologists Ana Golubović, Ljiljana Tomović, and Ana Ivanović at the University of Belgrade also discovered trends in righting performance based on the size and gender of the tortoises. These findings open up the question of why there is so much variation in tortoise shells if certain types are more conducive to flipping — the lead researchers believe that different shells may confer advantages for mating.
For tortoises, "getting back up" is not merely a figure of speech denoting grit, but a matter of life or death. Tortoises with bellies pointing to the sky face the dangers of predation, starvation, and exposure. Turning over is difficult, however, because tortoises cannot flex their torsos inside their shells.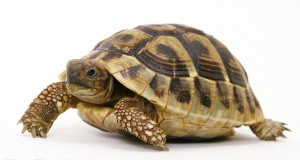 Golubović and her team, who were inspired by tortoises' ability to survive in uneven terrains despite their restricted movements, studied 118 female and male Hermann's tortoises as the reptiles struggled to recover ground. In the paper published in Zoologischer Anzeiger: A Journal of Comparative Zoology, the researchers analyzed the time tortoises took to right themselves, taking into consideration the geometry of their shells, their size, and their gender. The scientists also controlled for age, population, body temperature, and motivation to perform.
"As it was expected, we found that individuals with more convex carapaces needed less time to self-right," Golubović said. Her team also discovered that smaller shells are better for righting than larger ones, and that this trend is slightly more pronounced in males than in females.
The researchers believe that these differences are due to the variations in mating behaviors between males and females. While male tortoises with bigger shells are more likely to immobilize female mates and win fights against other males, those with smaller shells have greater agility. Males face this tradeoff between size and agility, but females have evolved larger shells, which are always better for producing offspring.

The various shapes of tortoise shells that have arisen through evolutionary history have yet to be studied in full, but the ideal shell shape for tortoise recovery has already been predicted. Gabor Domokos at the Budapest University of Technology and Economics and Peter Varkonyi at Princeton University have developed a mathematical model of a monostatic shell — a shell with only one stable orientation — which would allow tortoises to recover themselves spontaneously from any position. Some species, such as the Indian star tortoise, have tall domed shells that approach the monostatic model, but they are still prone to getting stuck.
Golubović sees many possibilities for future experiments on the evolution of tortoise locomotion and body shape. "Since this study explored agility in only one species, further studies are necessary for overall understanding of the explored phenomenon," she said.