You may have never heard of the anti-cancer drug paclitaxel, but it is indispensable to our modern healthcare system. It sits on the World Health Organization's List of Essential Medicines, and its annual sales surpassed one billion dollars in 2000. It has saved countless lives since its discovery in 1967. Yet the drug is also incredibly toxic, causing a low blood cell count, hair loss, nausea, and joint and muscle pain. Its extensive list of side effects is representative of an ongoing challenge in chemotherapy: striking a balance between destroying cancer cells and protecting the patient's noncancerous cells.
Paclitaxel binds to molecular motors in cells, thus inhibiting cancer cell growth, but it also prevents the division of non-cancerous cells. So how can cancer drugs be administered in small doses that efficiently and specifically target tumors?
Researchers at the University of North Carolina have proposed a solution that utilizes small cellular bubbles—called exosomes—naturally found in our tissues. In the study, Elena Batrakova and her team extracted exosomes from immune cells and loaded paclitaxel into these vesicles. Historically, drug resistance in cancer cells has been difficult to overcome, but using exosomes to deliver paclitaxel dramatically increased cytotoxicity in drug resistant cells and decreased tumor growth in mice. The increased effectiveness of this delivery system could allow healthcare providers to administer lower doses, alleviating the severity of side effects associated with cancer treatment.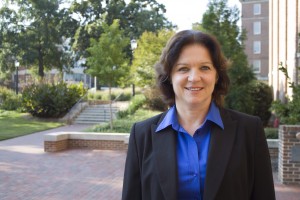 Exosomes, the stars of this study, are easy to miss, measuring a mere 100 nm in diameter. "We knew practically nothing about exosomes 10 years ago," said Philip Askenase, professor of Medicine and Immunology at the Yale School of Medicine. In recent years, our knowledge of exosome origin and function has expanded. Secreted by most cells, these small vesicles are thought to be involved in cell-to-cell communication and the carrying of RNA and protein cargos.
While our knowledge is still limited, researchers are already engineering methods to use exosomes as vehicles for drug delivery. One such study successfully released therapeutics for Parkinson's disease into cellular targets using exosomes. Perhaps the most attractive feature of this delivery system stems from its natural origin. Our immune systems can distinguish between self and non-self molecules and launch attacks on foreign invaders. Although beneficial, this ability sometimes disrupts medical procedures; for example, it can lead to organ transplant rejection. However, since exosomes are naturally derived, they are shielded from immune system attacks by an "invisibility cloak." Synthetic vehicles, on the other hand, are recognized by the immune system as non-self and rapidly cleared away.
Batrakova and her team recognized how useful these natural vehicles could be to cancer drug delivery. Due to the high toxicity of chemotherapy, decreased doses are often advantageous. For instance, paclitaxel functions by targeting tubulin, a motor protein found in all cells, and stopping it from disassembling. Since tubulin assembly and disassembly are necessary for chromosome movement during cell division, paclitaxel effectively halts mitosis, the process by which cells split in two. While bad for cancer cells, which normally proliferate at high rates, paclitaxel also stops mitosis in non-cancerous cells. This is partially why hair loss is a common side effect of chemotherapy. Yet, by specifically targeting tumors and protecting the drug from the immune system, the exosome acts as an excellent candidate for efficient drug delivery. When delivered by this system, a significantly decreased dosage of paclitaxel 50 times lower is still effective, reducing the risk of systemic toxicity associated with larger doses. "This is a way to send a 'hand grenade' in highly concentrated form into the enemies—cancer cells," Askenase said.
In the study, Batrakova's team harvested exosomes from macrophages, a type of white blood cell. Afterwards, they tested different methods for loading paclitaxel into the vesicles. Sonication, the act of using sound energy to agitate the exosome membranes, was the most effective. As the membranes became more fluid, large amounts of paclitaxel were incorporated into the exosomes.
Subsequently, Batrakova compared the performance of exosomes to other drug delivery systems, such as frequently used nanocarriers, liposomes, and polystyrene nanoparticles. To compare these systems, the lab tagged each carrier with a fluorescent label and visualized its location under a microscope. Compared to other drug carriers, exosomes accumulated at higher concentrations inside cancer cells.
Further experiments showed that exosomes can bypass the defensive mechanisms of drug-resistant cancer cells. Resistant cancer cells carry transporters on their outer membranes that pump drug particles out of the cell before they can induce cell death. Exosomes dodge these transporters: "Since exosomes have adhesive proteins on their surfaces, they stick to the side of cells like Velcro," Batrakova said. She believes that these adhesive interactions allow exosomes to fuse with cancer cell membranes, avoiding interactions with the membrane transporters. Other drug carriers release their cargo into the fluid surrounding cancer cells, making it more difficult for the drug particles to dodge these defensive mechanisms.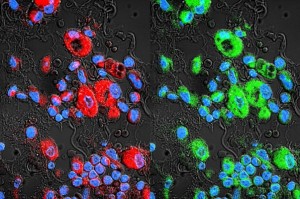 To validate their findings, Batrakova's team used models of lung cancer in mice. After treatment with paclitaxel-containing exosomes, the number of cancer cells in the mice's lungs dropped significantly. These results have important implications for the future of cancer treatment. The efficacy of exosome-mediated delivery may decrease the necessary doses of chemotherapeutics, minimizing unwanted side effects. Furthermore, exosomes may provide a method for overcoming drug resistance in cancer cells.
At the same time, Batrakova acknowledges that many questions still remain unanswered. "The biggest surprise was when exosomes did not target healthy tissues," she said. This observation cannot yet be explained, but she remains hopeful that successive experiments will provide more clues about the mechanisms of exosomes, not only in cancer, but also in other diseases. "The implications can be very wide," Batrakova said.