At Yale's Peabody Museum of Natural History, it is clear how much one can learn from a single fossil. Even with only a fraction of a million-year-old animal's skeleton uncovered, scientists can paint a thorough picture of its species' lifestyle. Concerned with the scattered remains of creatures that lived long ago, scientists are rarely fixated with individual organisms and how they lived and died.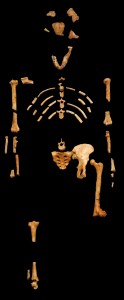 In the case of Lucy, a world-renowned 3.2-million-year-old Australopithecus afarensis fossil, more personalized evidence of the ancient hominin's final moments is coming to light. New research from a team led by John Kappelman '79, an anthropology and geology professor at University of Texas at Austin (UT Austin), suggests that this early human fell out of a tree to her death. Kappelman ran computerized tomography (CT) scans on Lucy's skeleton, revealing compressive fractures on many of her bones, which were consistent with those that could be incurred from a fall from a great height. Though these findings can never be proved definitely, they have the potential to broaden scientists' understanding of early human behavior and further elevate Lucy's fame in the world of anthropology.
But Lucy's name was not established for millennia after her fateful plunge. Kappelman said that Donald Johanson and Tom Gray, the scientists who uncovered Lucy on an archaeological expedition to Ethiopia in 1974, quickly realized that they had something special on their hands. They brushed off a single arm bone buried in the dirt only to find another and another until they had hundreds of pieces of the same skeleton. Since this now historic expedition, Lucy has traveled the world as a representative of early human life.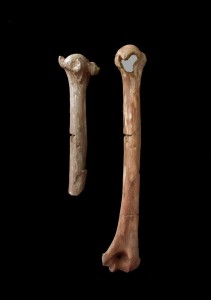 While Lucy was touring the United States in 2007, Kappelman made plans with the Ethiopian government for Lucy to stop by UT Austin. His team used CT scans to take high resolution, high energy pictures of Lucy's bones. "If the fossil is a loaf of bread, the CT takes it slice by slice," Kappelman said. This method allowed him to follow fractures he observed on the surface of the bones to the inside.
After printing out and expanding the CT images to human scale—one remnant of Lucy's humerus is only the length of the end of a thumb—Kappelman noticed what he believed to be compressive fractures. These fractures occur when one bone is impressed into another under intense pressure. Fossils often fracture and break from simply resting under so much sediment for such a long time, but, for Lucy's skeleton, a subset of her bones appeared to have forcefully collided with one another.
To test his hypothesis, Kappelman sent three-dimensional printouts of the scans to Stephen Pearce, an orthopedic surgeon from Austin, who made the same diagnosis: the pattern of compressive fractures on Lucy's skeleton suggested that she suffered a major perimortem impact, during which the bones of her arms, shoulders, pelvis, legs, and skull were all driven into the bones adjacent. Only a fall from a considerable height, such as a tree, could have led to the drastic injuries Lucy's skeleton sustained—it is rare to sustain fractures from simply tripping on a flat surface. The notion that Lucy might have been in a tree in the first place has major implications for early human behavior.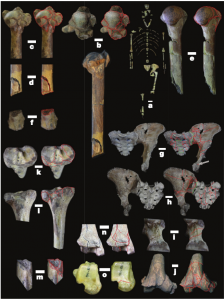 One of the largest debates in anthropology in the past century has been whether early humans were arboreal—whether they spent a fair amount of time in trees like our primate ancestors. Lucy's compressive fractures could provide support for arboreal behavior; with further study, they may help to impact scientists' understanding of the lifestyle of our ancestors.
As is crucial to any scientific claim, these results must be evaluated. Though the forensic analysis of an ancient hominin may not seem amenable to this goal, Kappelman has worked to ensure that anyone can study Lucy's skeleton. He received permission to release three-dimensional files of the CT scans online, accessible at "elucy.org." Now anyone with access to a 3-D printer can print a copy of Lucy's bones and evaluate Kappelman's hypothesis.
"How amazing that the oldest fossil on the planet is now leading the charge into 3-D printing," Kappelman said. With the newfound accessibility of Lucy's skeleton comes the possibility of rapid progress. As she hit the ground, odds are Lucy did not know that her bones were also breaking open the field of anthropology, albeit a few million years later.