Yale University's Center for Engineering Innovation & Design (CEID) is a hub of creativity. Housing 3D printers, power tools, and wet labs, it is a dream come true for any engineering student. The CEID was designed as a collaborative engineering environment, where students could create novel devices with real-world impacts. The embodiment of this "research to practice" principle is the CEID's Summer Design Fellowship, an award given to students who wish to combat an existing problem in the world of engineering.
During the summer of 2016, twelve students worked on a diverse array of projects, such as medical devices, healthcare applications for smart phones, and electric motors. "It's a really special experience and opportunity to go wholeheartedly and dig into a project over the summer," said Joe Zinter, assistant director of the CEID. One project team in particular, Acantha, has developed a medical game-changer that may soon come to the operating room.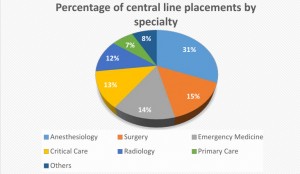 Every year in the United States, approximately 400,000 patients are injured due to complications from central line placement, a procedure that involves placing a needle into a patient's vein to deliver fluids. "These complications aren't the result of medical side effects, but of flaws in the technique," said Andres Ornelas Vargas '17, Acantha's team leader. To manage these complications, hospitals spend close to 4.5 billion dollars each year. Enter Acantha.
The current method of central line placement is the Seldinger technique, where the physician uses a needle connected to a syringe to access the patient's vein; however, once the vein is accessed, the physician must drop the ultrasound probe used to visualize the needle in order to steer the guide-wire into the vein. There exists a moment when the physician is unable to see how the needle is positioned inside a patient's vein, because of the lack of ultrasound visualization. This rogue needle can then puncture the vein or other nearby organs. "This is where most of the problems arise, so we decided to tackle it by making the entire approach one-handed," says Ornelas Vargas.
With an exciting theory in hand, Andres was ready to recruit a team. "We were working late in the CEID one day when Andres approached me with his idea to fix central line placement. So, we drew up some blueprints," said Brandon Hudik, Acantha's chief technology officer. With the support of Dr. Jason Chin, a vascular surgery resident at Yale New Haven Hospital, Hudik and Ornelas Vargas have created a prototype of their device, which they have named Ballistra.

Ballistra allows the physician to insert the guide-wire into the vein while simultaneously visualizing the area, making the entire process much safer. This way, the physician never loses sight of the needle, because the ultrasound probe never leaves its position above the vein. Acantha has transformed a two-handed, blind process to one that requires just a few thumb motions from the physician.
What began as a late-night brainstorming session in the CEID has blossomed into an exciting startup that has already received accolades from the National Institutes of Health. Now having established a proof-of-concept model, Andres and Brandon are planning to solicit approval from the FDA. "The next step is implementation in the operating room," Hudik said. "It has been a ton of fun to move from theory to practice. Now, we hope to make a real difference in patients' lives."